Updated by Implementation
What is HSN?
HSN code stands for "Harmonized System of Nomenclature". This system has been introduced for the systematic classification of goods all over the world. HSN code is a 6-digit uniform code that classifies 5000+ products and is accepted worldwide.
Overview
HSN mainly refers to Tangible Goods. A good which can be touched, seen and consumable. Via HSN government and tax department can easily scrutiny that which type of material has been transacted.
Use Case
Suppose there is a firm "XYZ Ltd". They are a manufacturing/trading unit and they are purchasing & selling their product. They need to mention HSN codes for all the products to post the entries and to furnish the returns.
With help of this option, user can create different hsn codes with taxes and document type and while posting entry it will calculated tax on basis of HSN.
Steps to be performed to Create HSN
1.Go to GST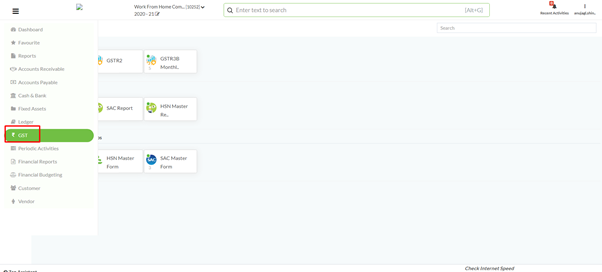 2.Go to Apps-> Subscribe and Activate the GST App. Activate the HSN Editable Mode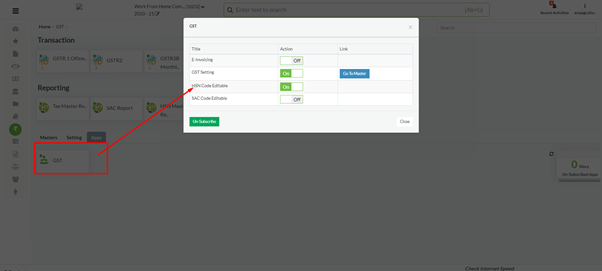 3.Go to Masters and click on HSN Master Form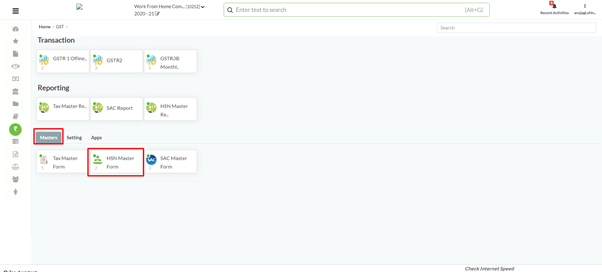 4.Click on + button and pop up will open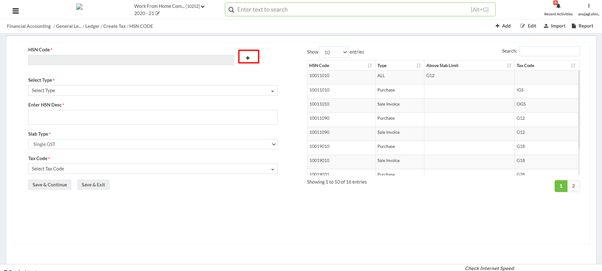 4.1.In pop up: Enter initial of HSN and press Enter. Click on + button given after every HSN code to select hsn.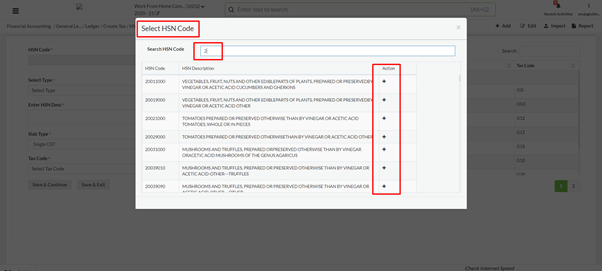 4.2.After selection of HSN, user can edit HSN code as some user use only 2 digit or 4 digit hsn code.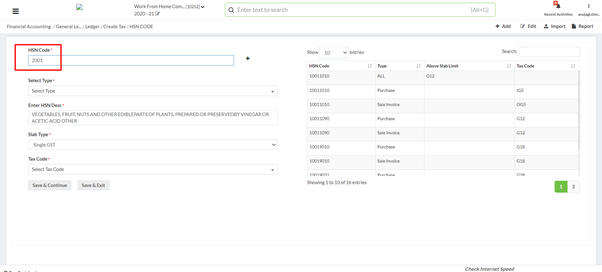 4.3.Select Document type as user can set it for purchase type and sale type as required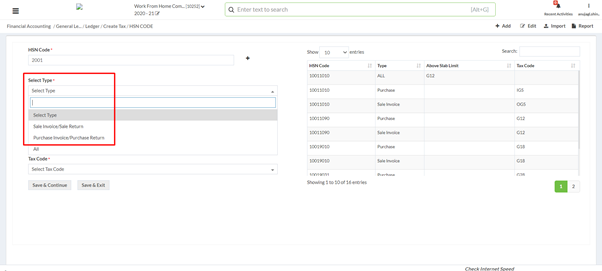 4.4.If user select single slab then user can sale or purchase with single tax only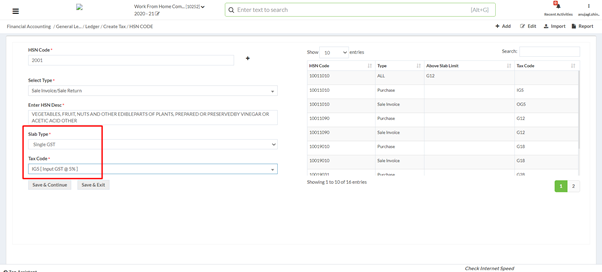 4.4.1.If user select "Slab wise tax", then user enters the slab rate and enters the 2 taxes for below slab and upper slab. Click on save & continue.
For example if slab limit is Rs.1000 and and below limit tax rate 5% and upper limit tax rate 12%. Then while posting entry it will check per piece rate, if it is more than Rs1000 then it will apply 12% and if it is less then Rs1000 then it will apply 5%.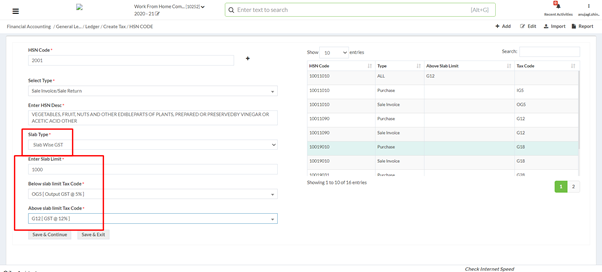 5.Edit Mode-> If user want to edit the HSN details, then please click on edit and select the HSN from dropdown.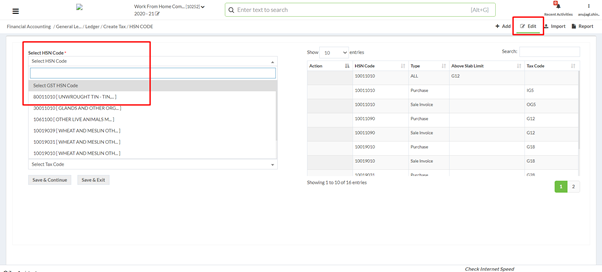 5.1.Select Type and after that user can make changes like changing tax rate or HSN description. Click on save & continue.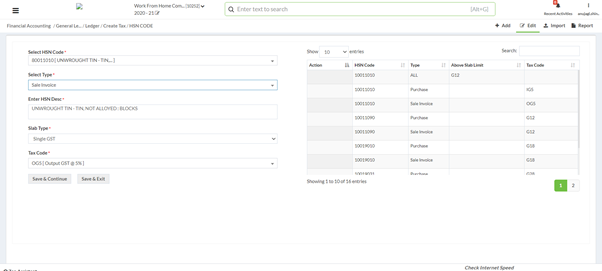 6.User can save multiple HSN at one time via CSV import. Just click on import and pop will open. Click on download to download the sample file.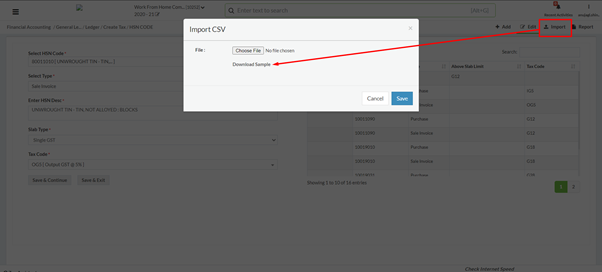 6.1.CSV-> i)The 2nd row is reserved for sample data so, user do not need to fill data in second row and also there is no need to remove that 2nd row as the 2nd row data will not be saved in software. ii)Enter HSN code in column A iii) Rest of information will be entered same as we enter in master. Iv)User has to enter description manually if user want to use less than standard digit length for HSN.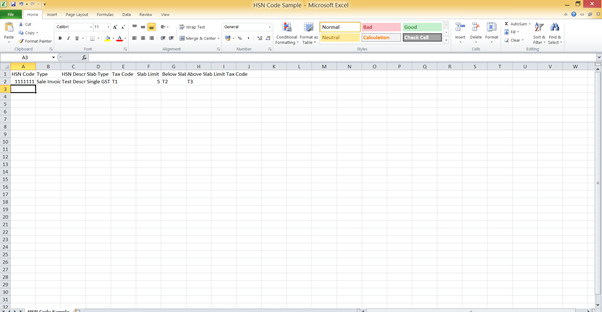 6.2.Now go to HSN Master and upload csv file in pop up and click on save.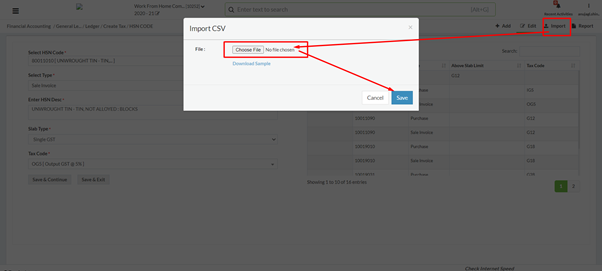 7.Report-> Click on report button to see HSN List saved in system by user.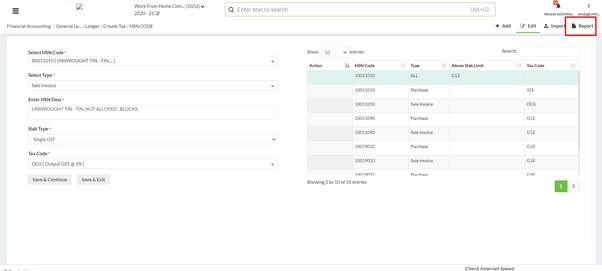 7.1.User will see here complete detail saved in HSN master. User can print & download the report.