Updated by Implementation
What is Out source job work order ?
An outsourced work order is a completely new service request, which is created between the original vendor and the outsourced subcontractor.
In another way it is defined as the company take resources to complete their target or task according to their work order for that they give another resources from outside the company instead of passed out their internal resources and created job according to work order wise number.
Overview
The Out source job work order Feature of our ERP system helps companies to manage all tasks that have been outsourced to vendors and created job work order according to task decision, and job work order number ranging from creating the task requirement to receiving the finished goods or services. This helps to keep a tab on all processes and makes sure that timelines are followed.
Use cases
Suppose that there is a company Parveen Pvt. Ltd. that produces Bike .The tyre are not manufactured by Parveen company but is instead outsourced to a leading type manufacturing vendor in the vicinity. That time whatever material they resource they handle manually.
When company joined with Zenscale ERP system they implemented the feature Outsource Job work order.The Outsource Job work order feature intelligently helps to keep a track of managing the new job work according to company order wise to vendor tasks and makes sure that the bike are assembled and dispatched in time.They get easy help to track all the new job work according to outsource order wise.
Steps to be performed
Click on Website
https://www.zenscale.in/pp/app_home_beta_new
1. The page will open.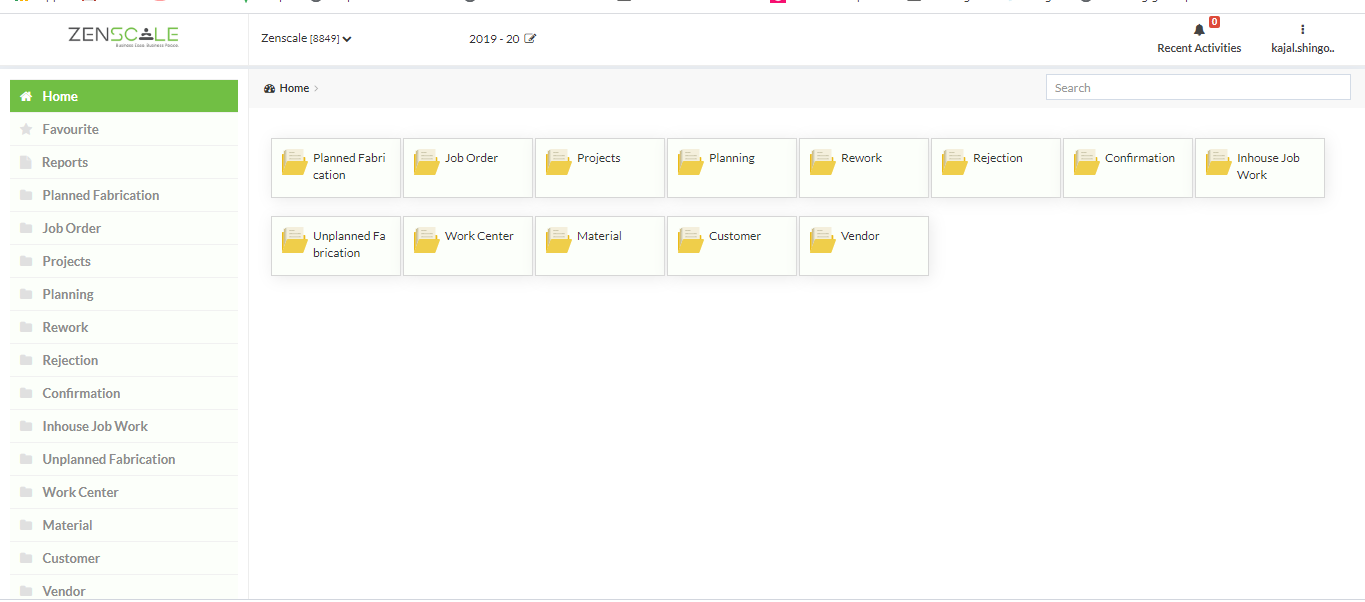 2. Click on planned fabrication and subscribed the app of planned fabrication and group outsource, click on planned fabrication.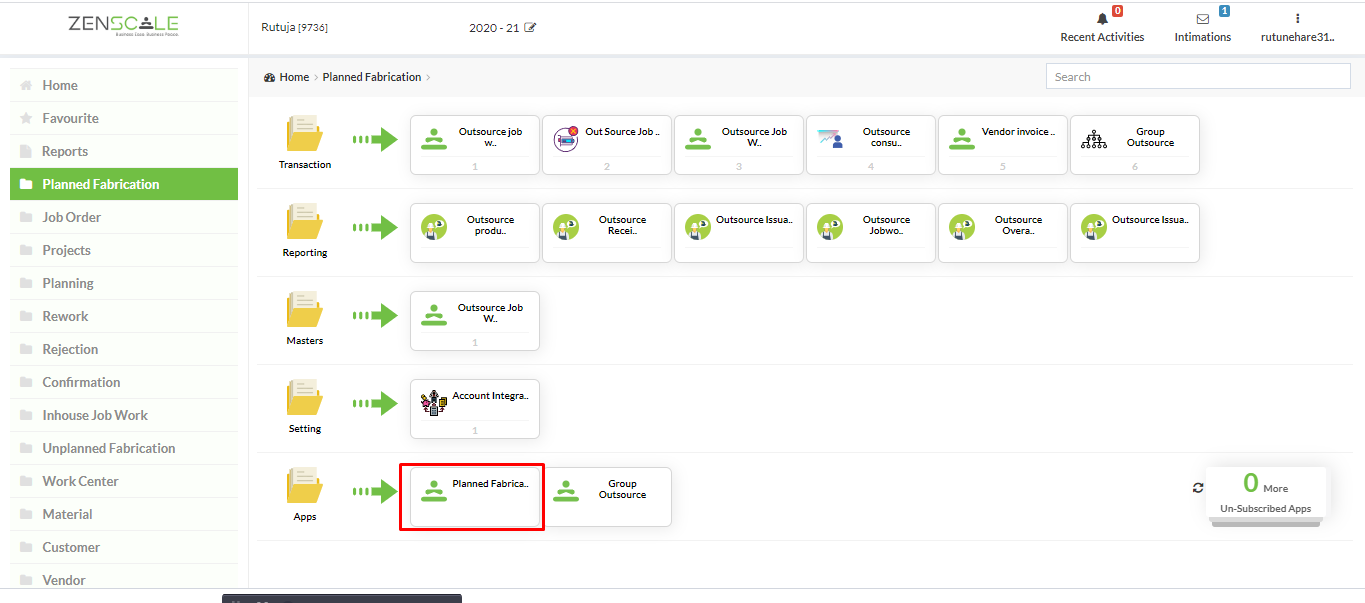 3. After clicking on planned fabrication on the setting.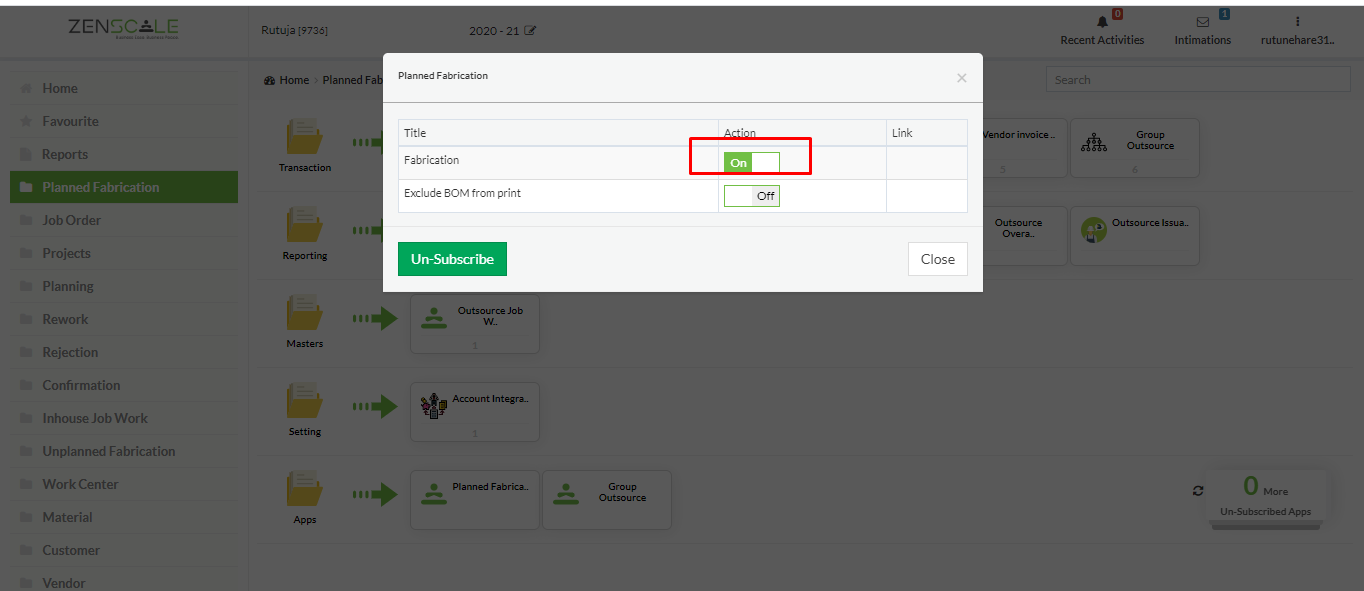 4. Also click on group outsource.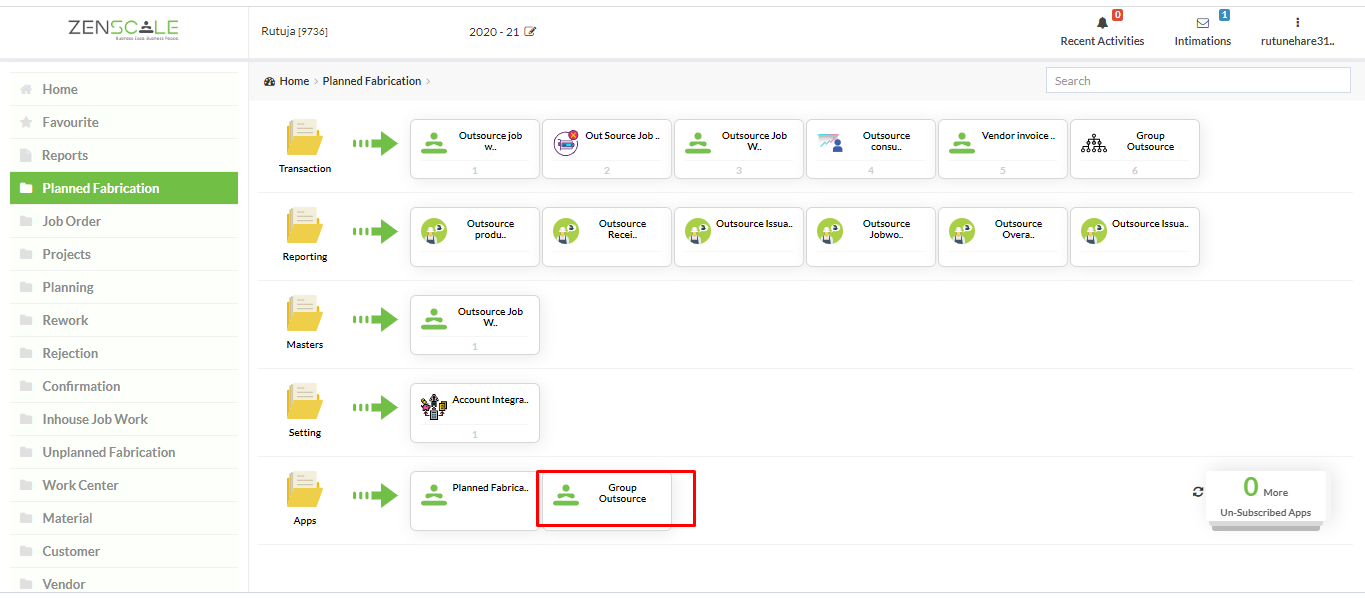 5. On the setting for group outsource.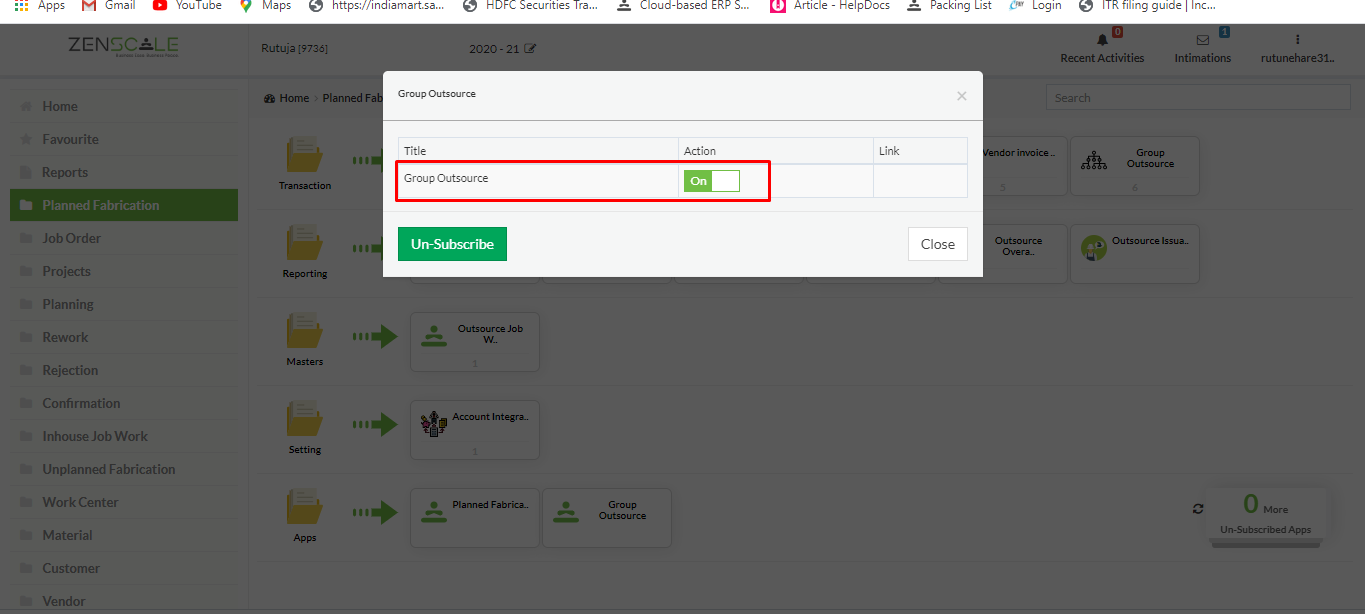 6. Click on Outsource Job work order transaction.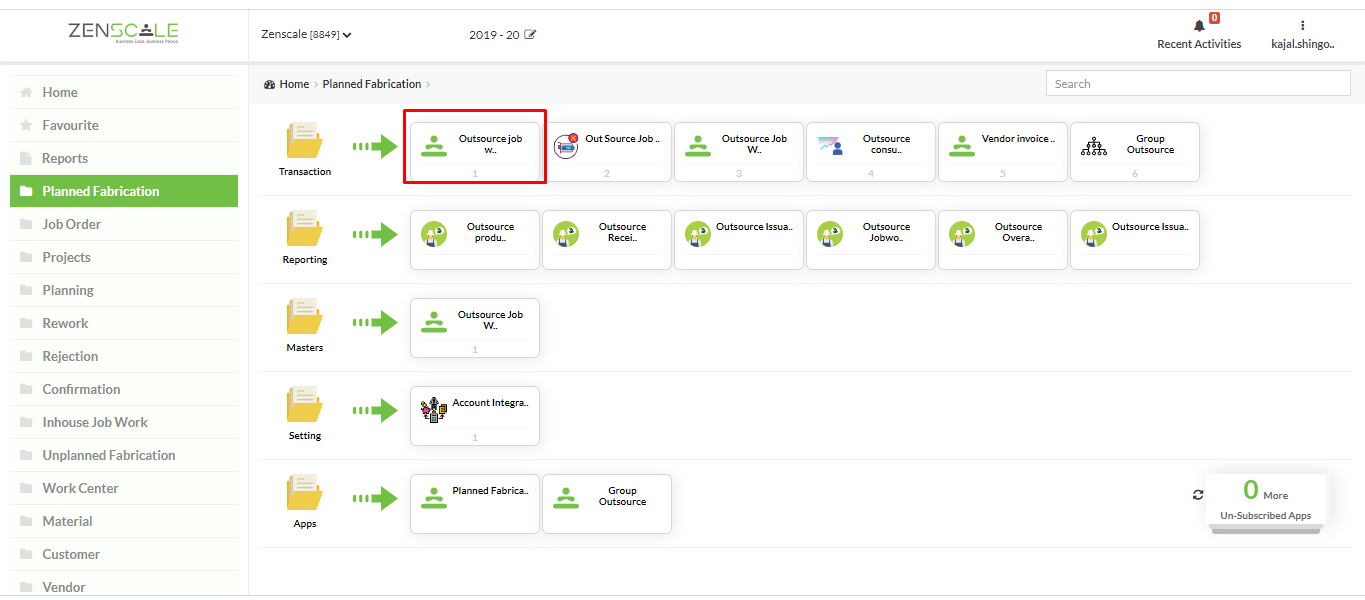 7. The page will open and fill all the mandatory.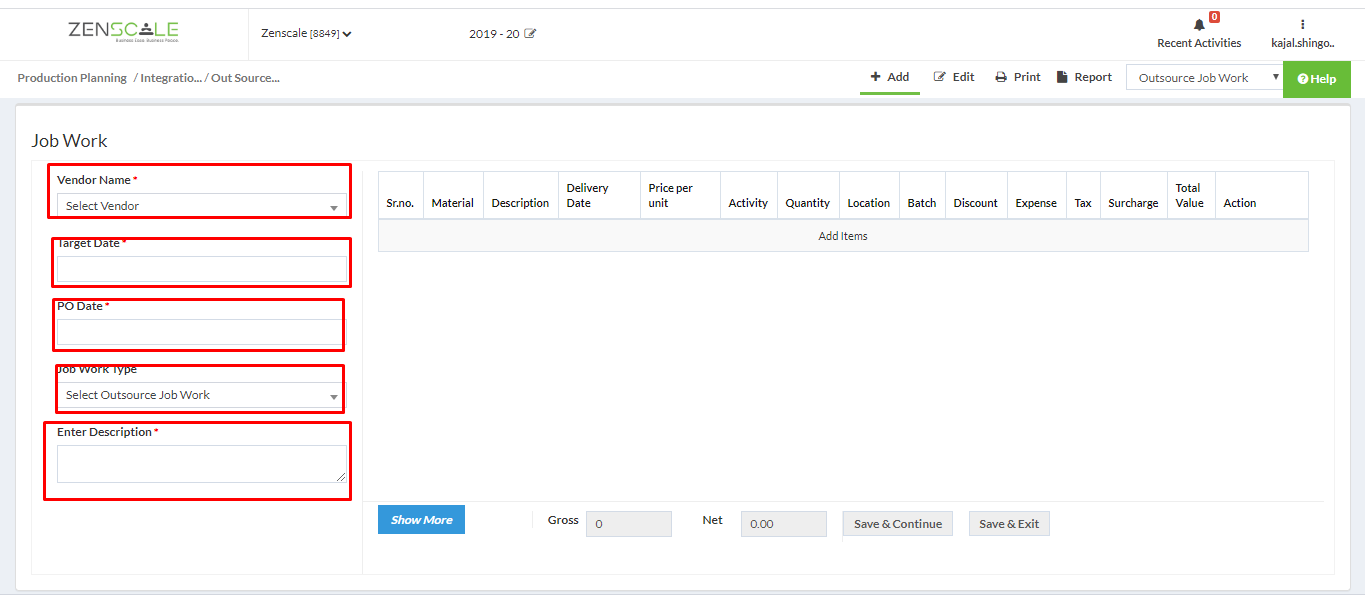 8.Select Vendor name.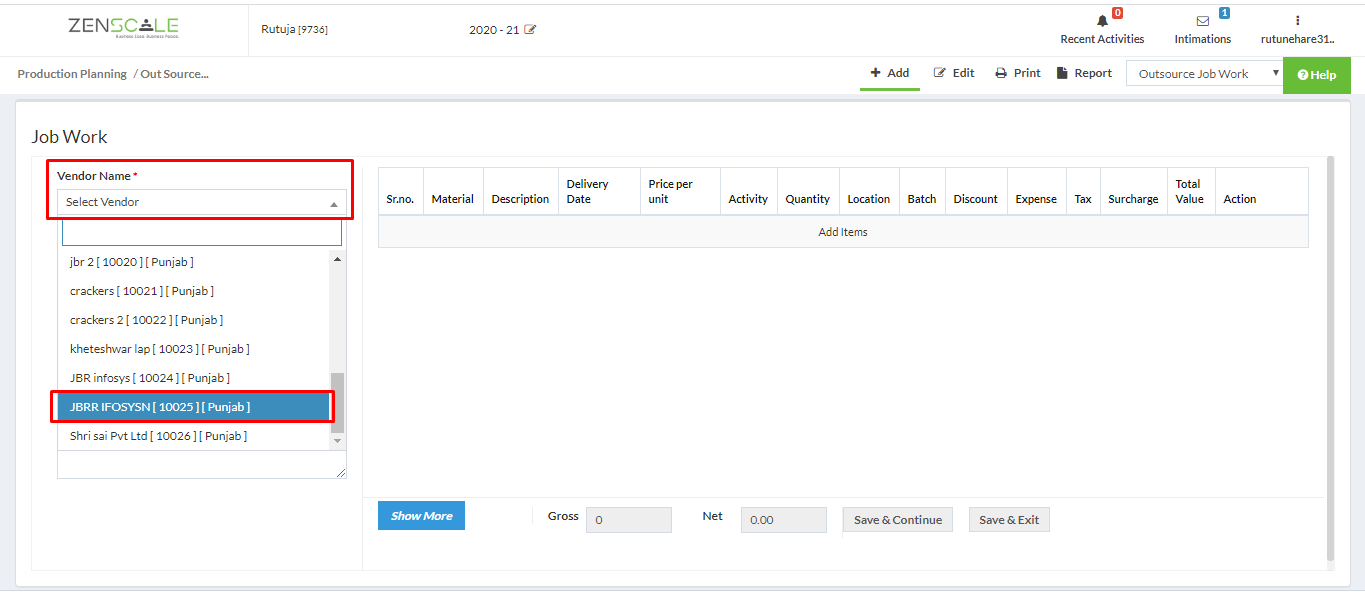 9. Fill the target date and PO date.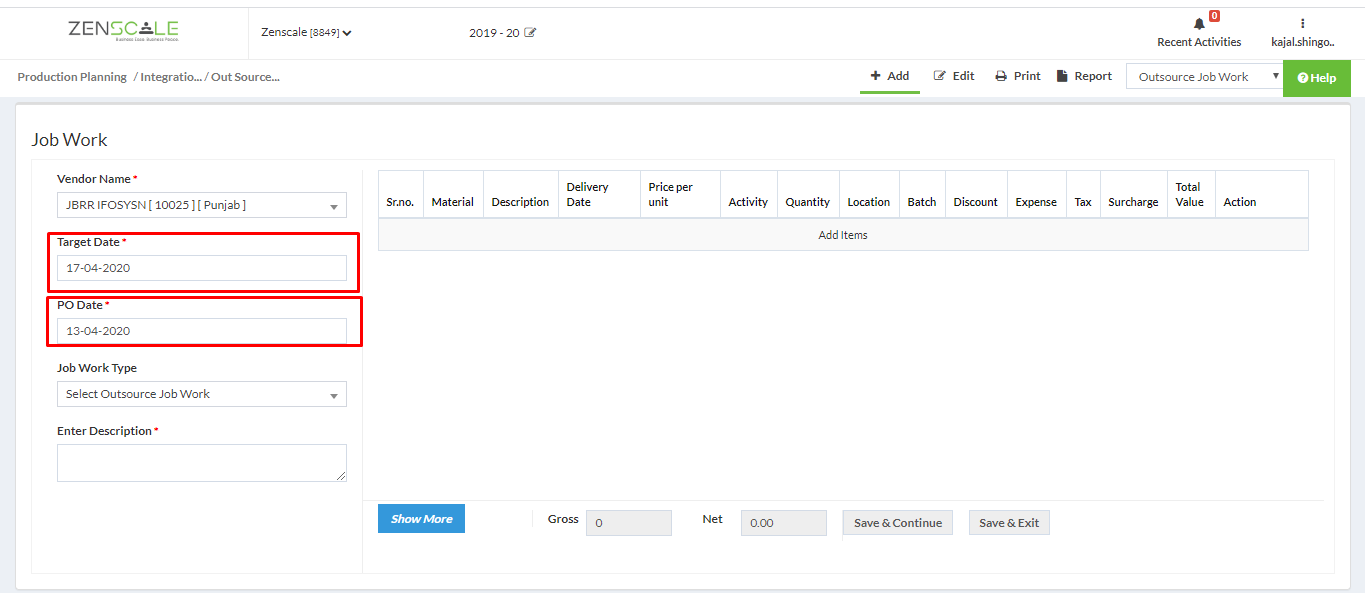 10. Add Job work type.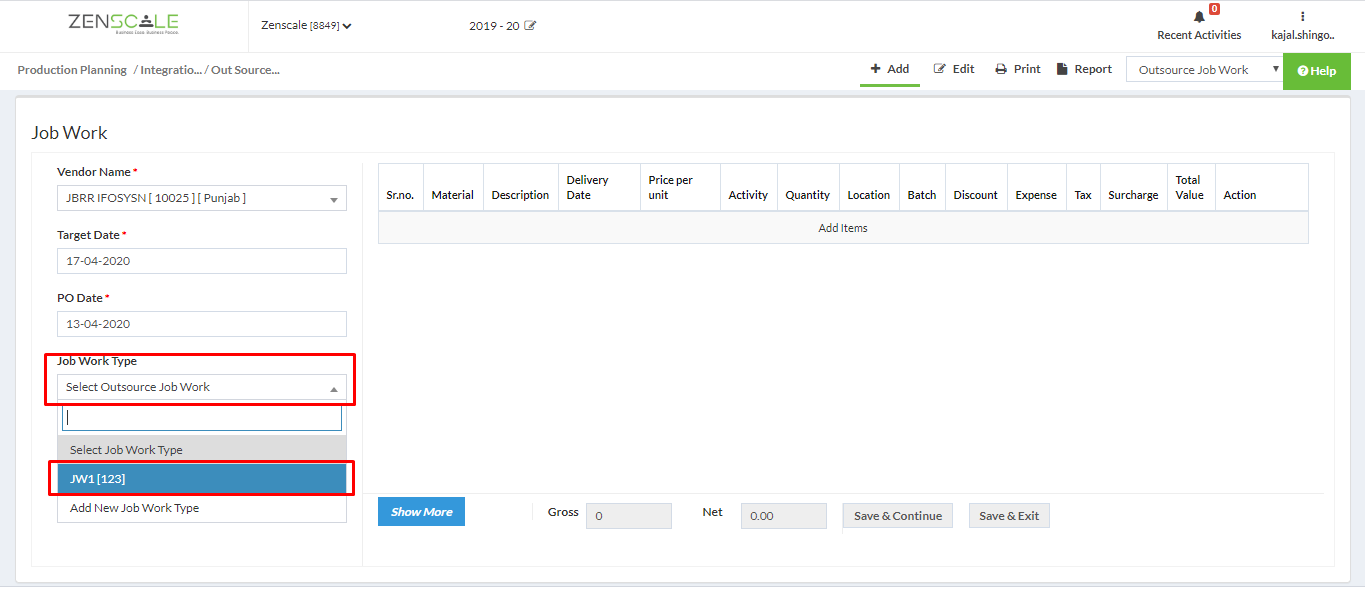 11. Enter some description about Job work.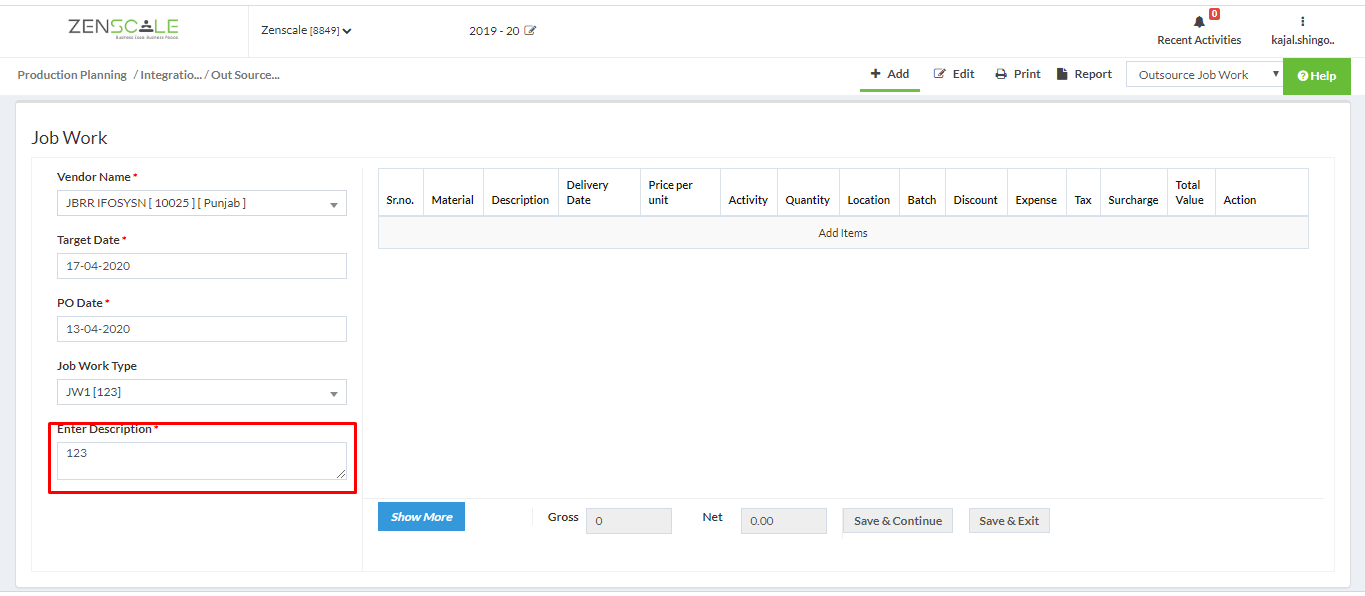 12. Click Add item for selecting material for outsource job work.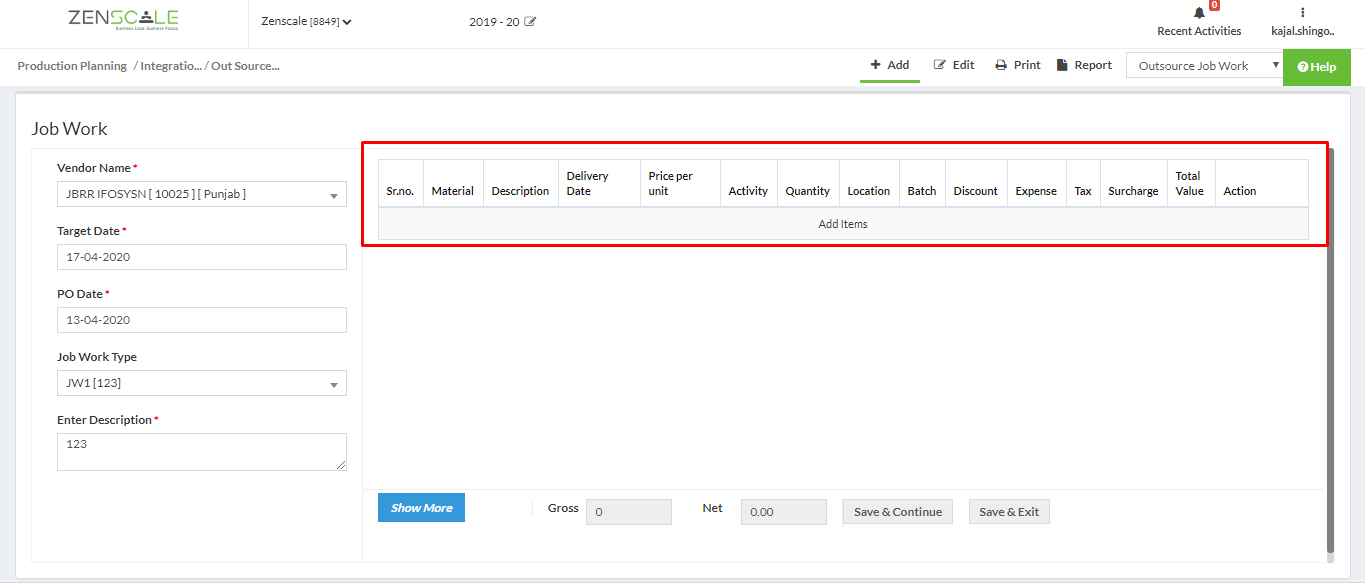 13. The page will open and fill all the mandatory.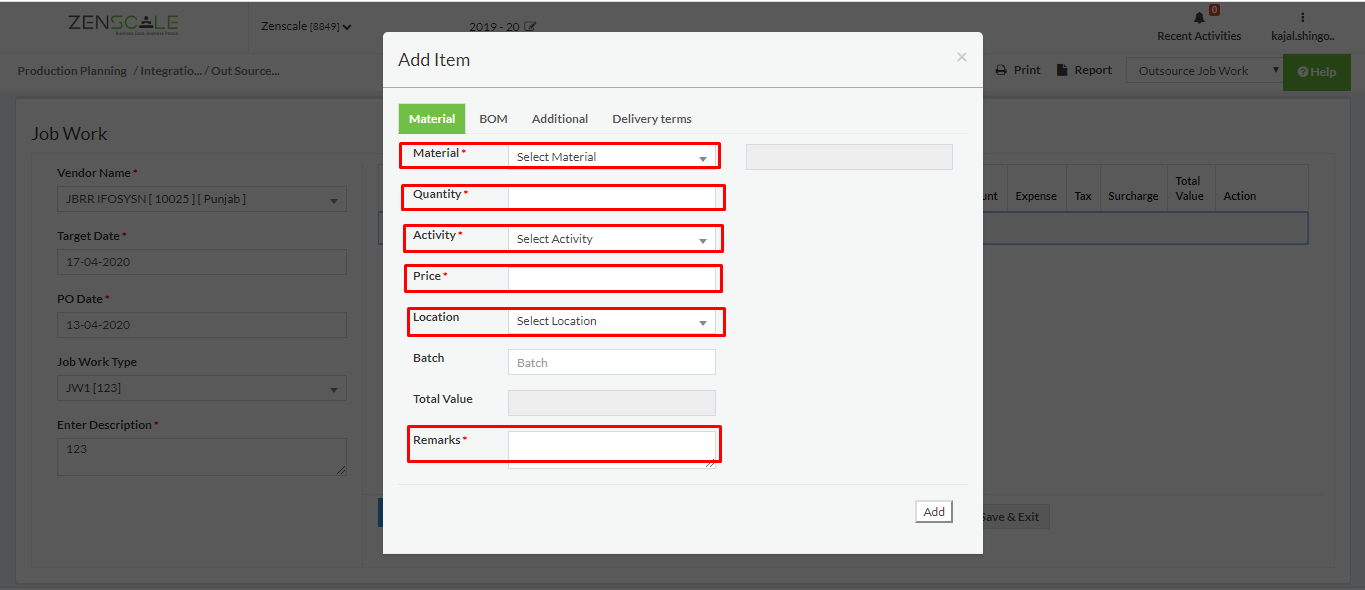 14. Select material.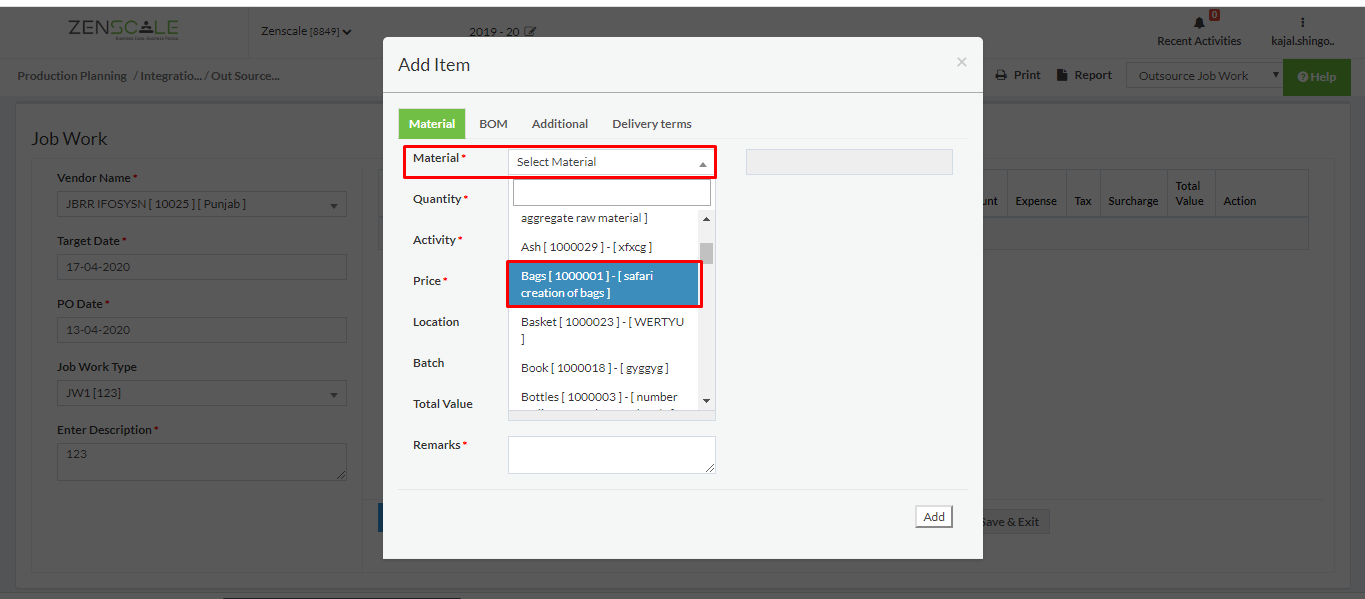 15. Then add quantity and select activity.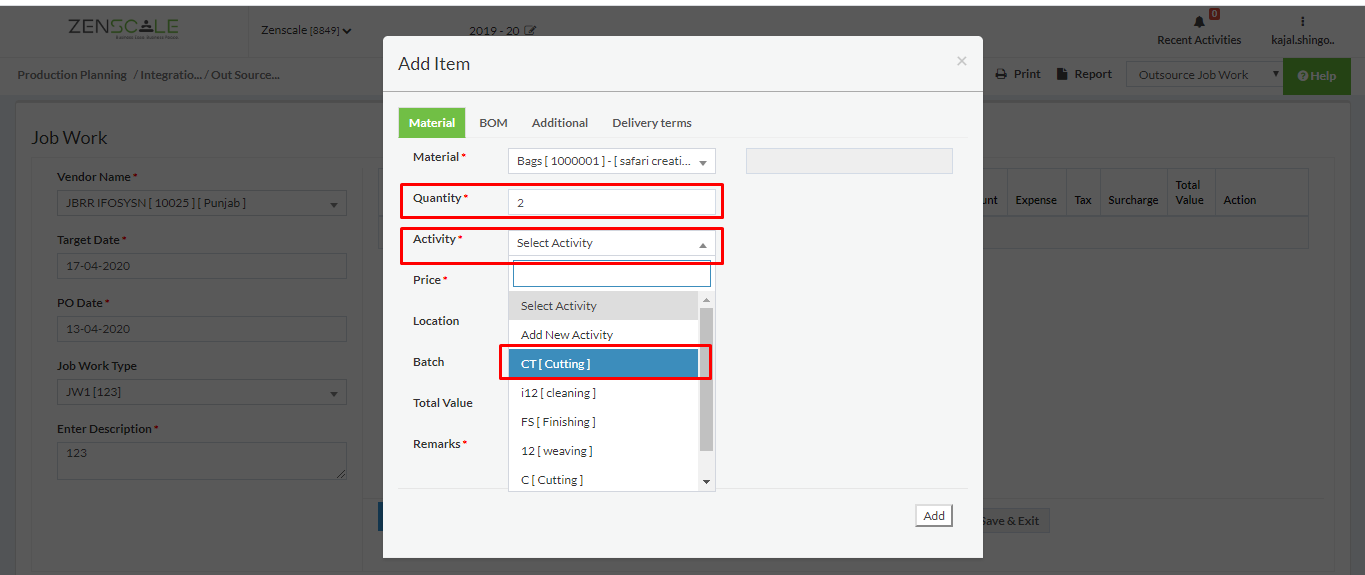 16. Add the price if the stock is in location then select location and some remark.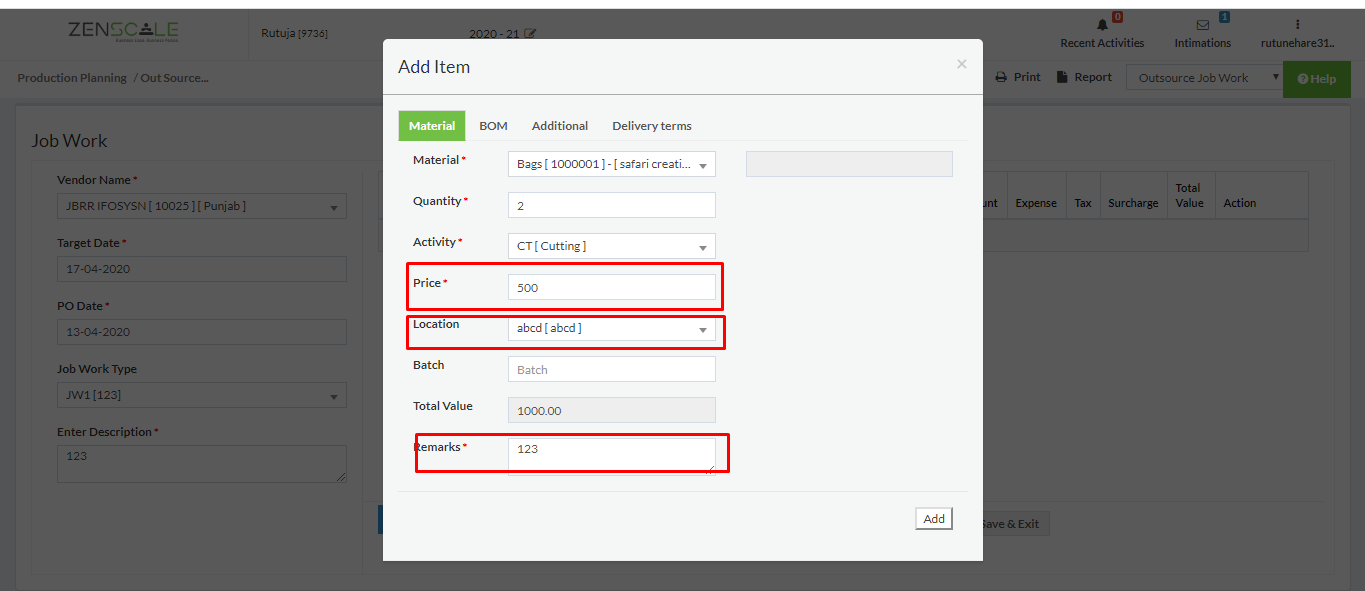 17. Then click on BOM the BOM material will show of the selected material.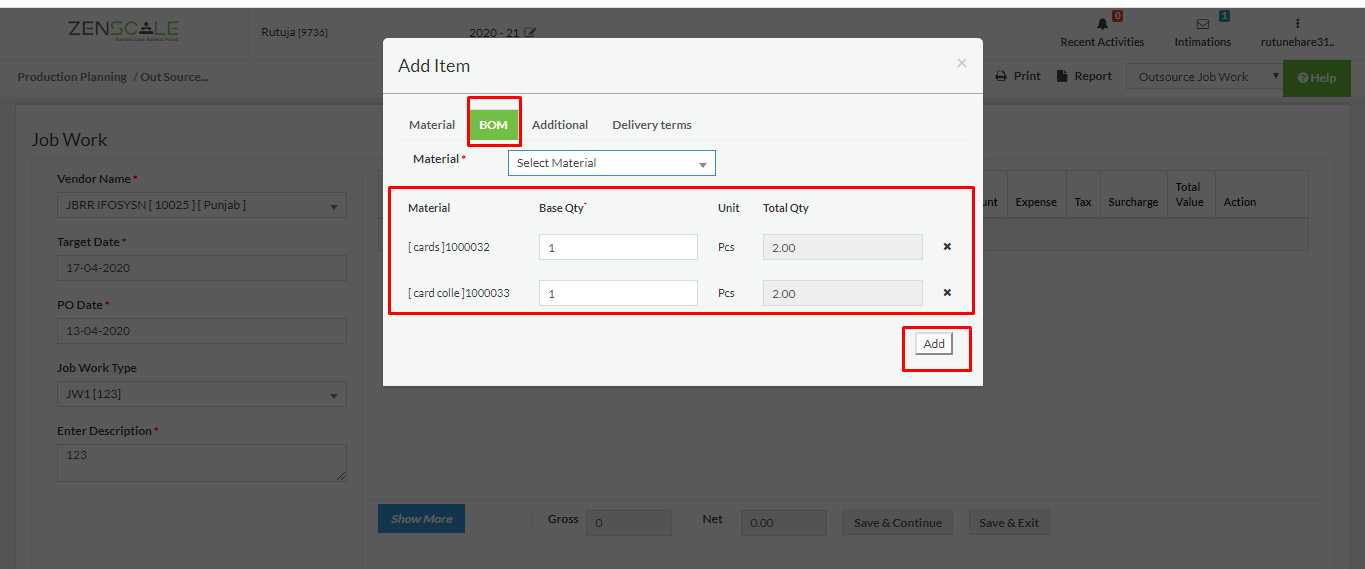 18. If we click on additional then we have to see that the target date for deliver will show,

19. If we have to give some discount then select type, discount and expenses and then click on add.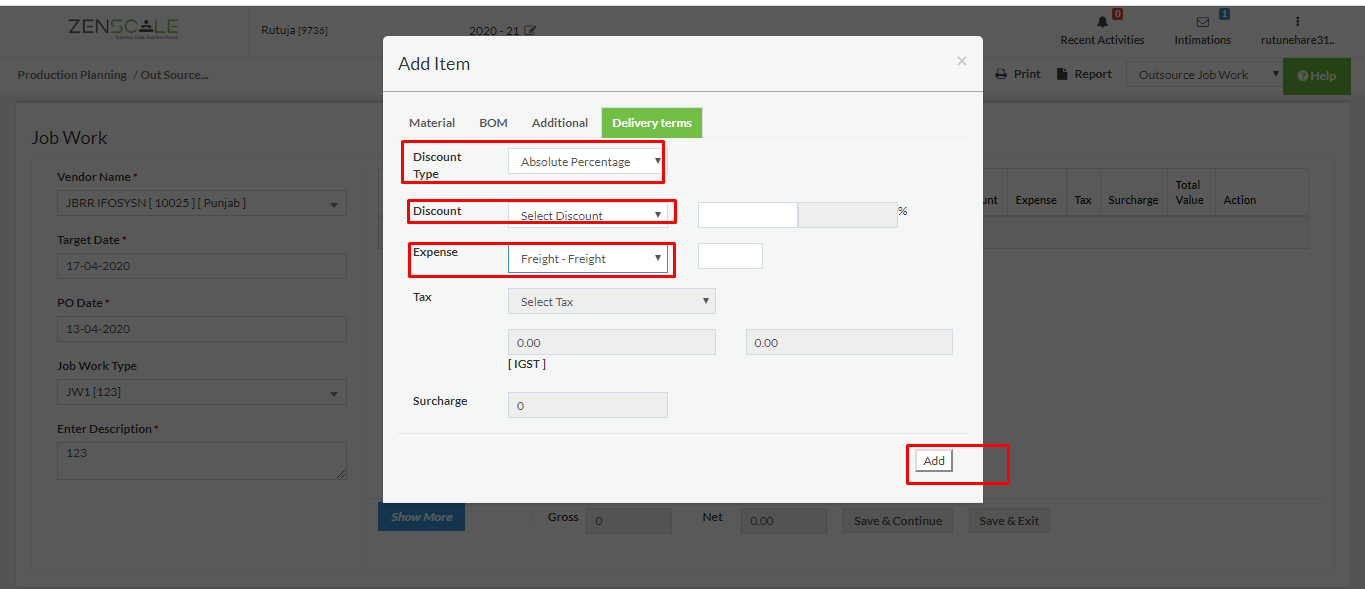 20. After all that process click on add.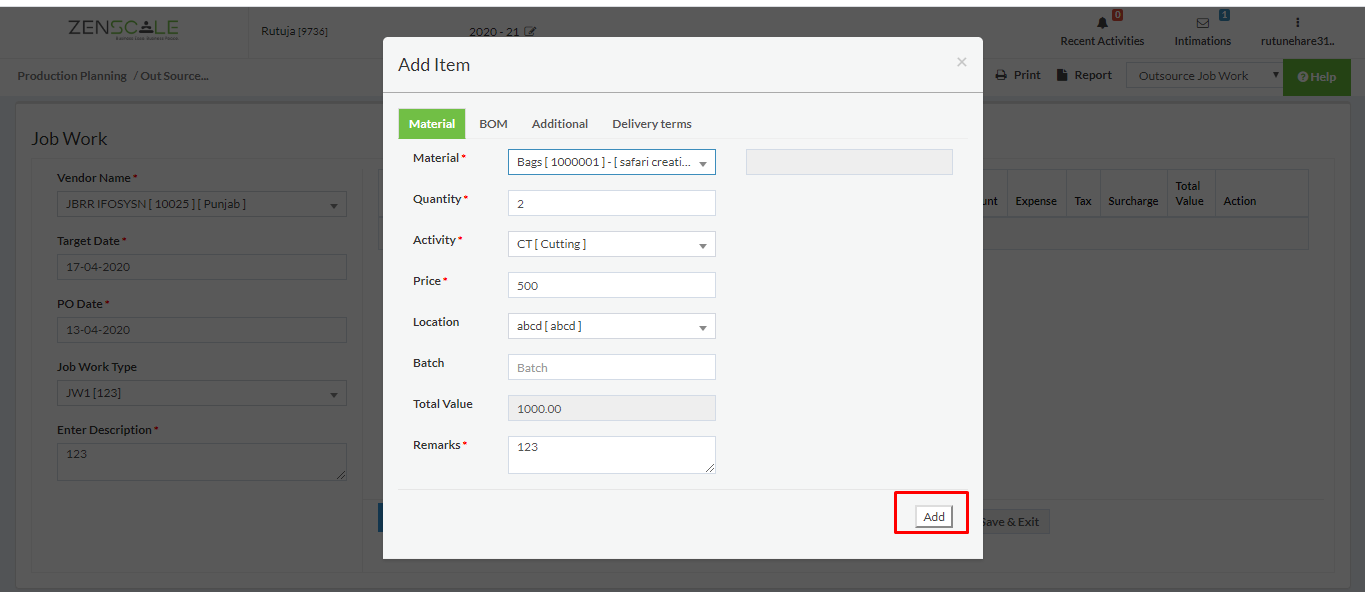 21. Then it will show that,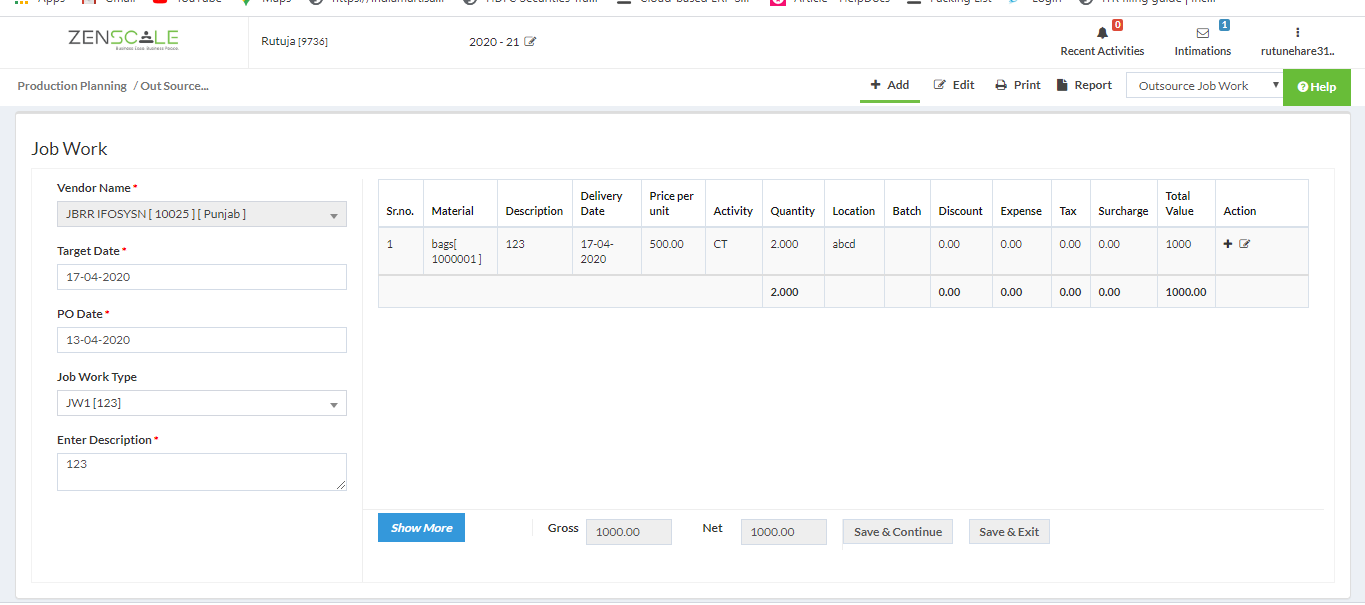 22. If we have to edit about selecting material then click on edit.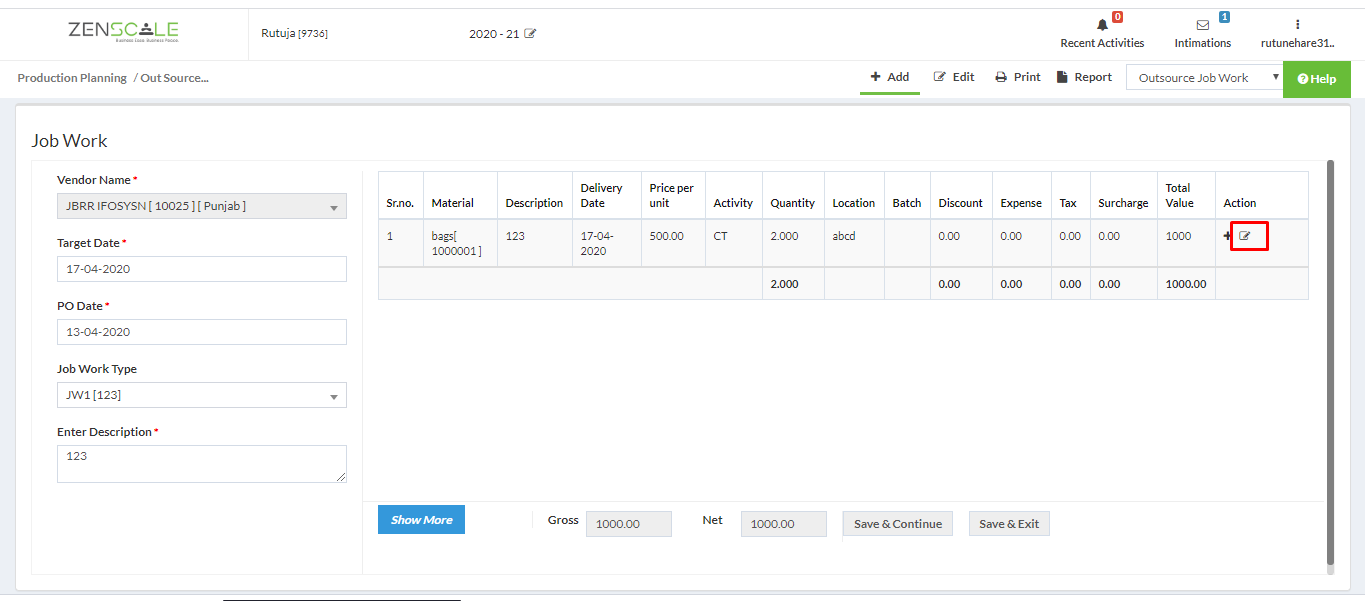 23. Click on save and continue.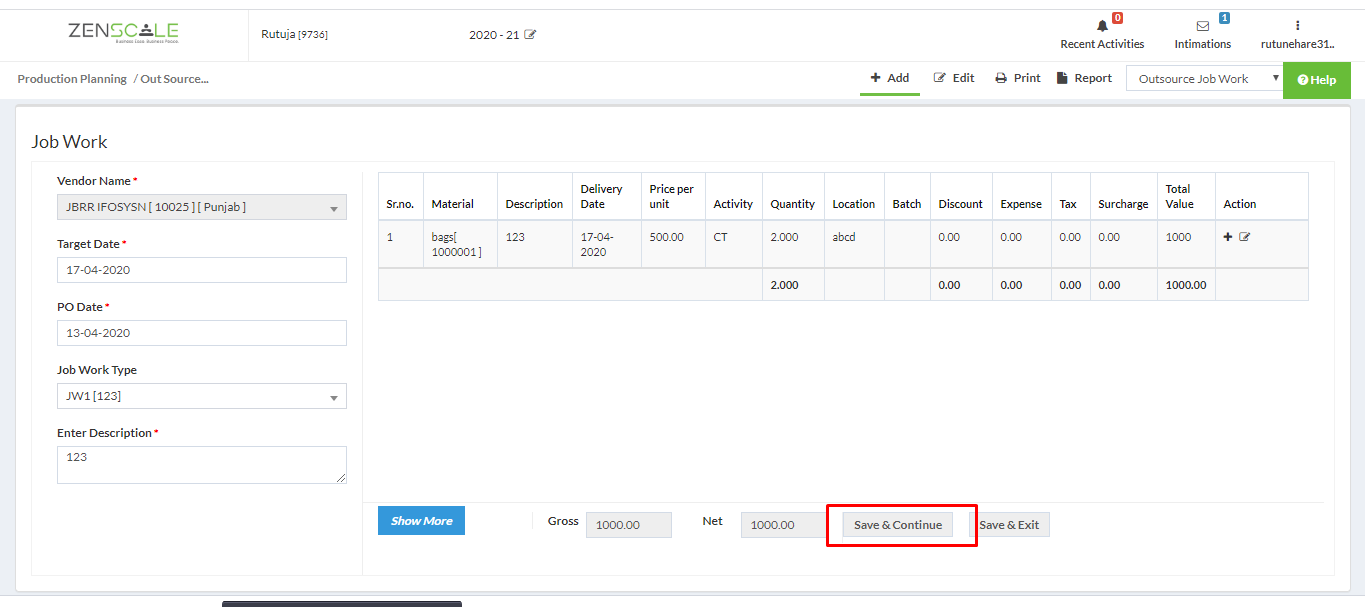 24. After that it will show that document number created.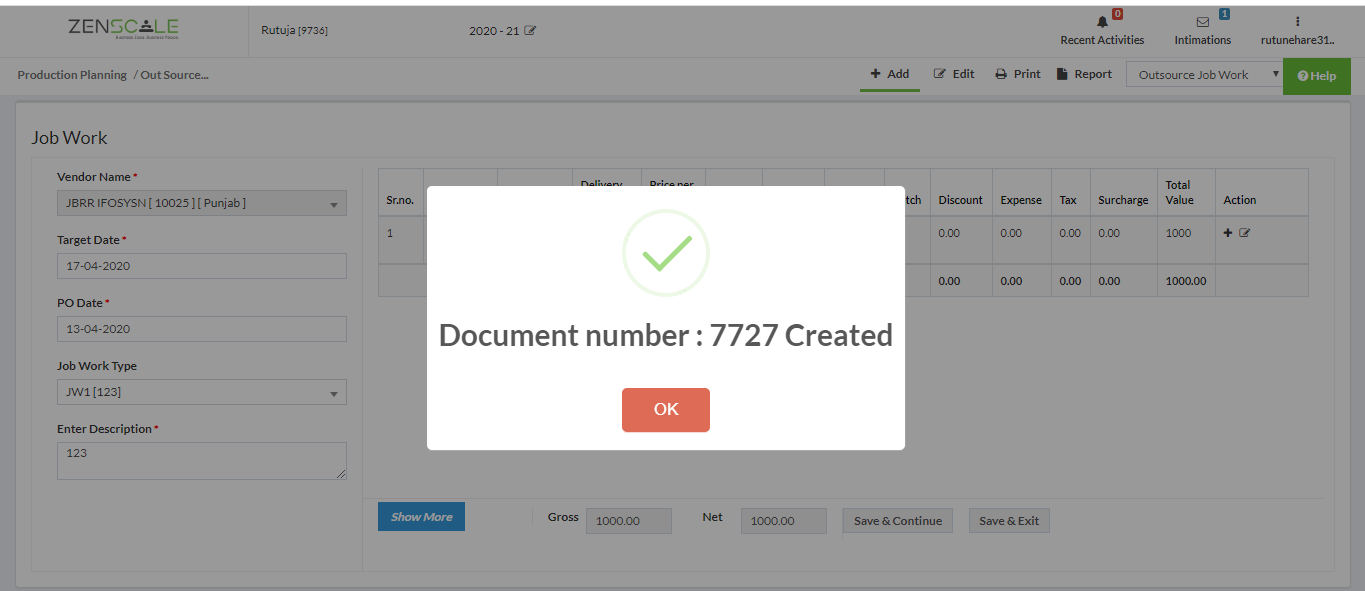 25. If we have to edit about the created job work then click on edit option.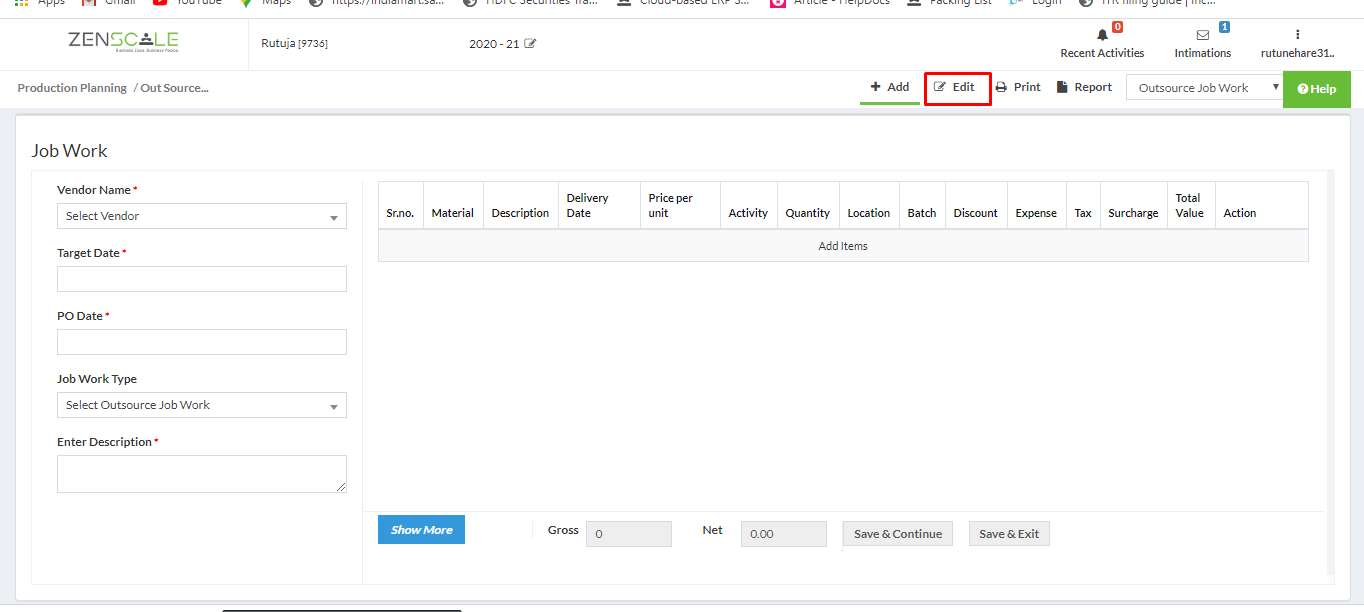 26. By using this option which is highlight in below we can directly select the next transaction using this option i.e. Issue component, receive material and vendor clearance.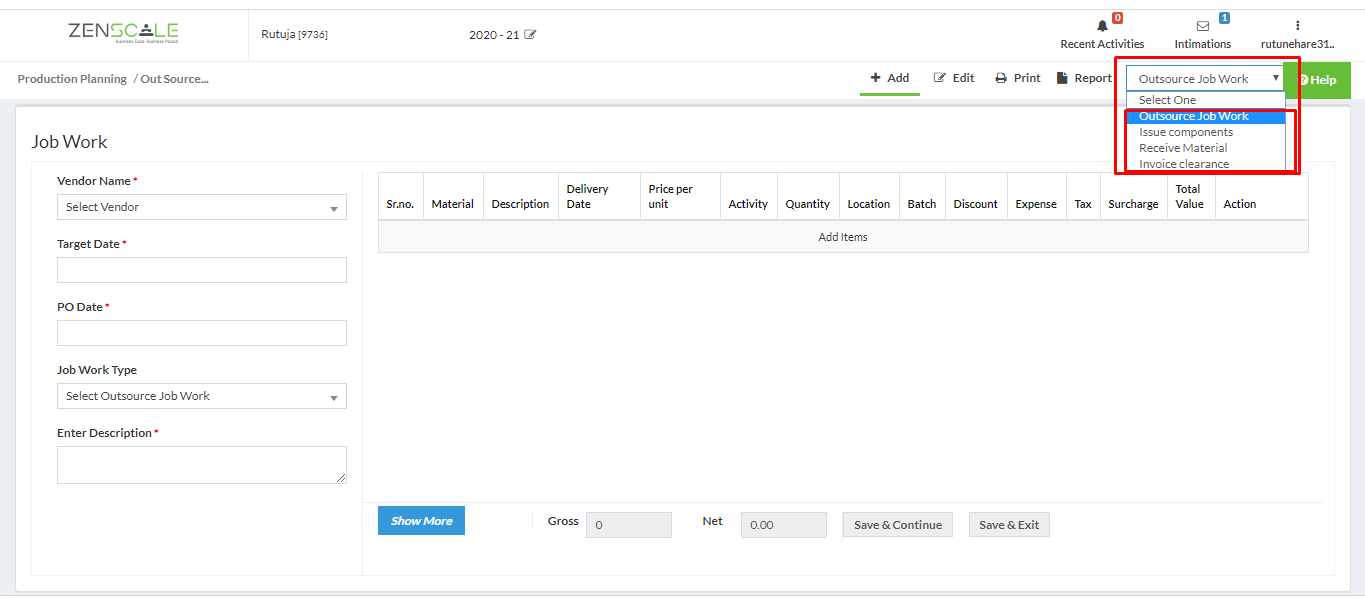 27. To see report click on report.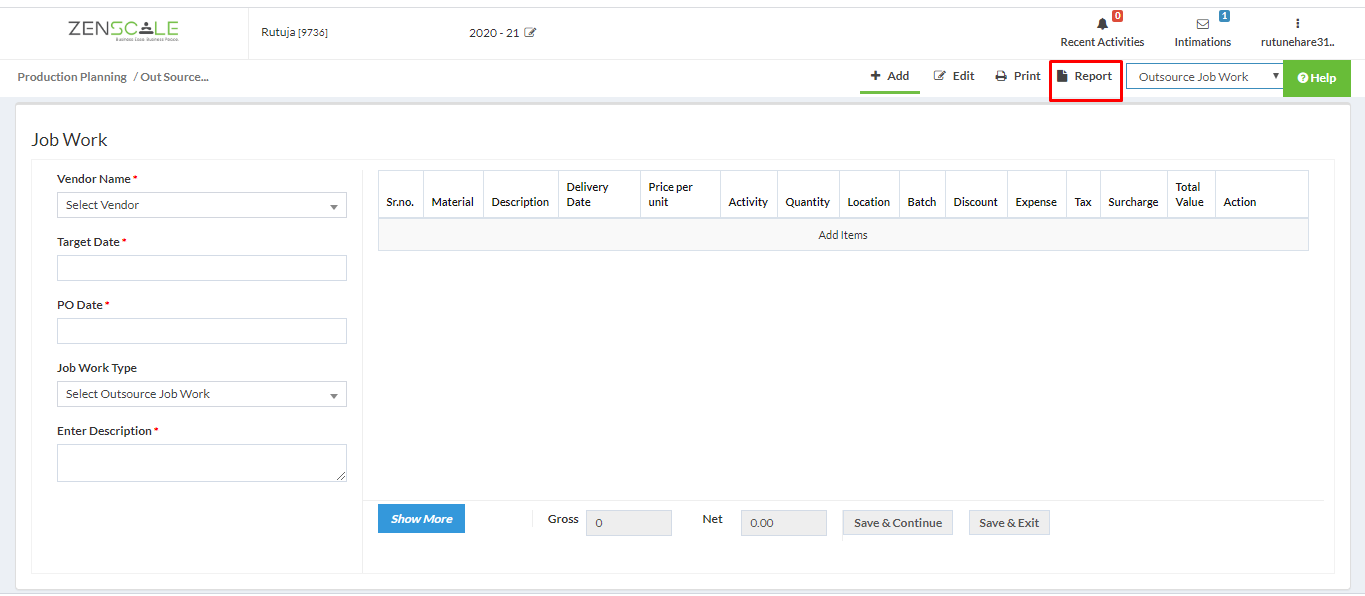 28. The page will open select the date and vendor and then click on search.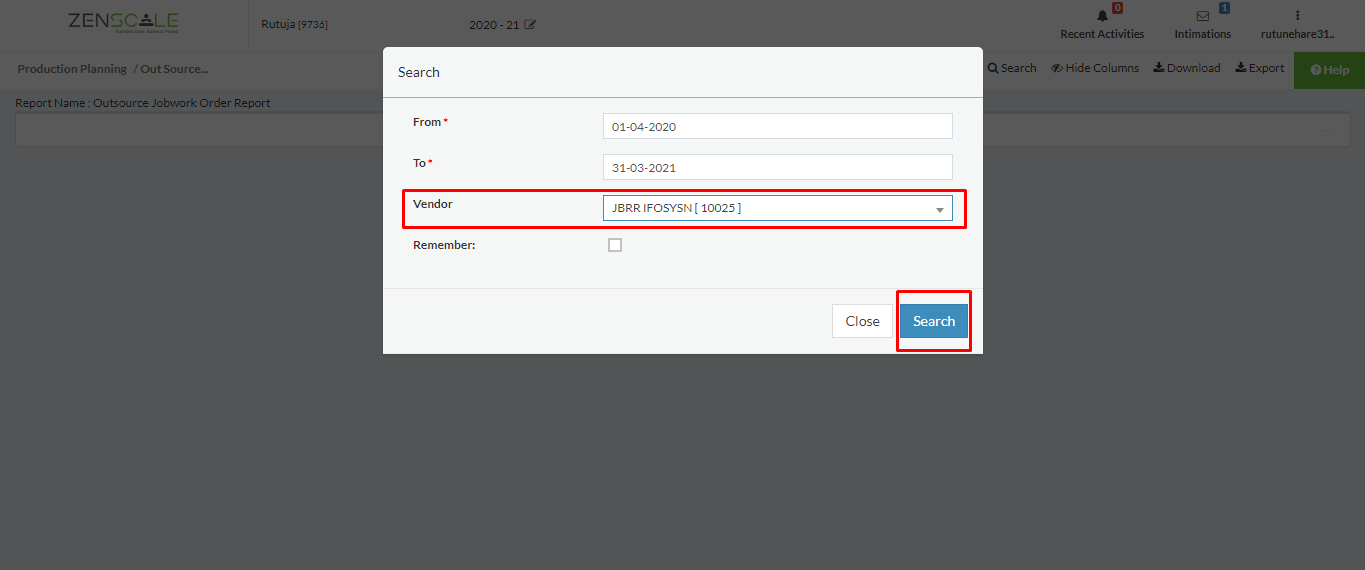 29. The report will show,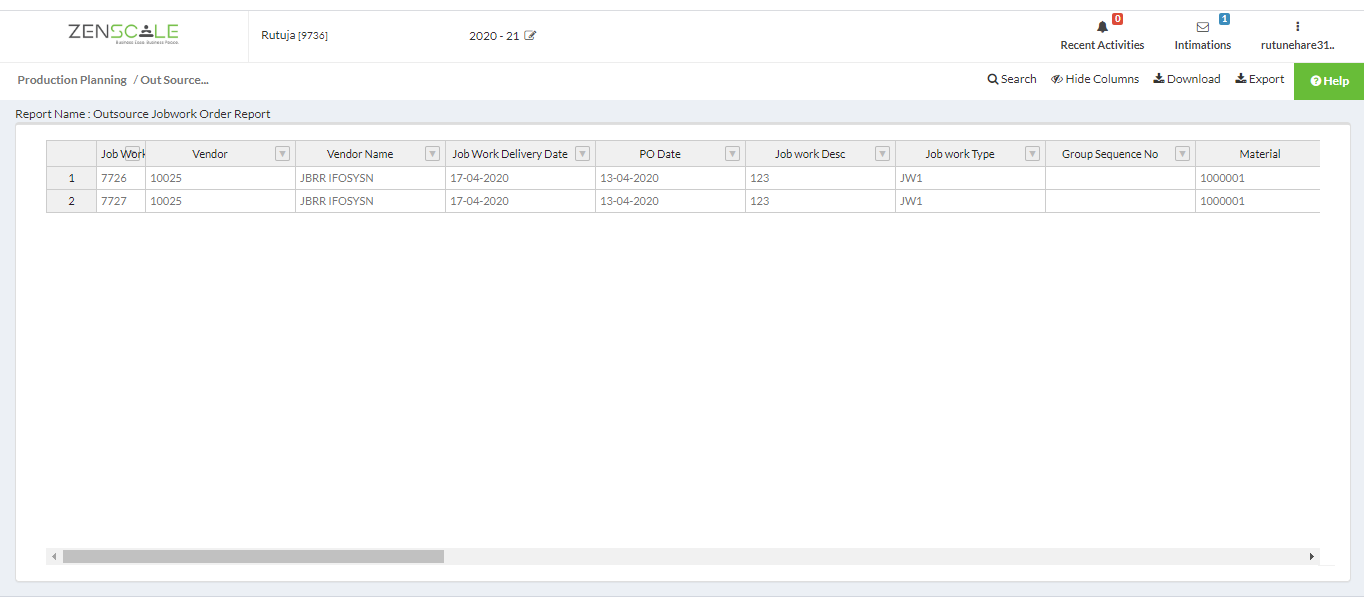 30. We can also import through excel by clicking on download.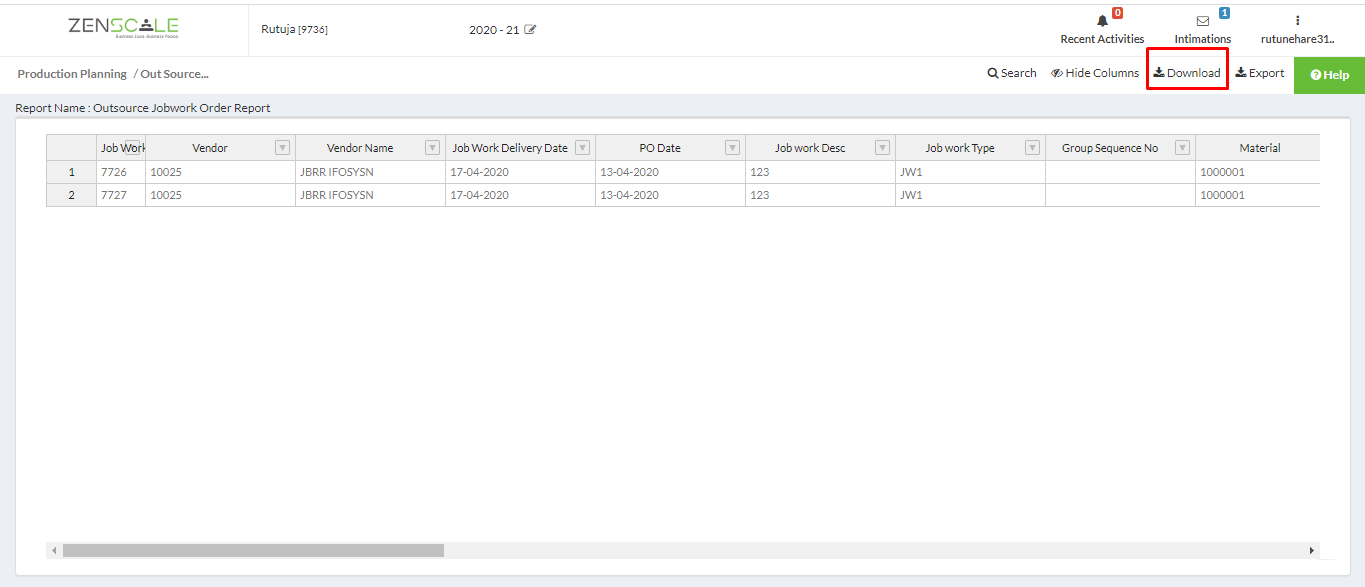 31. To get the print click on print.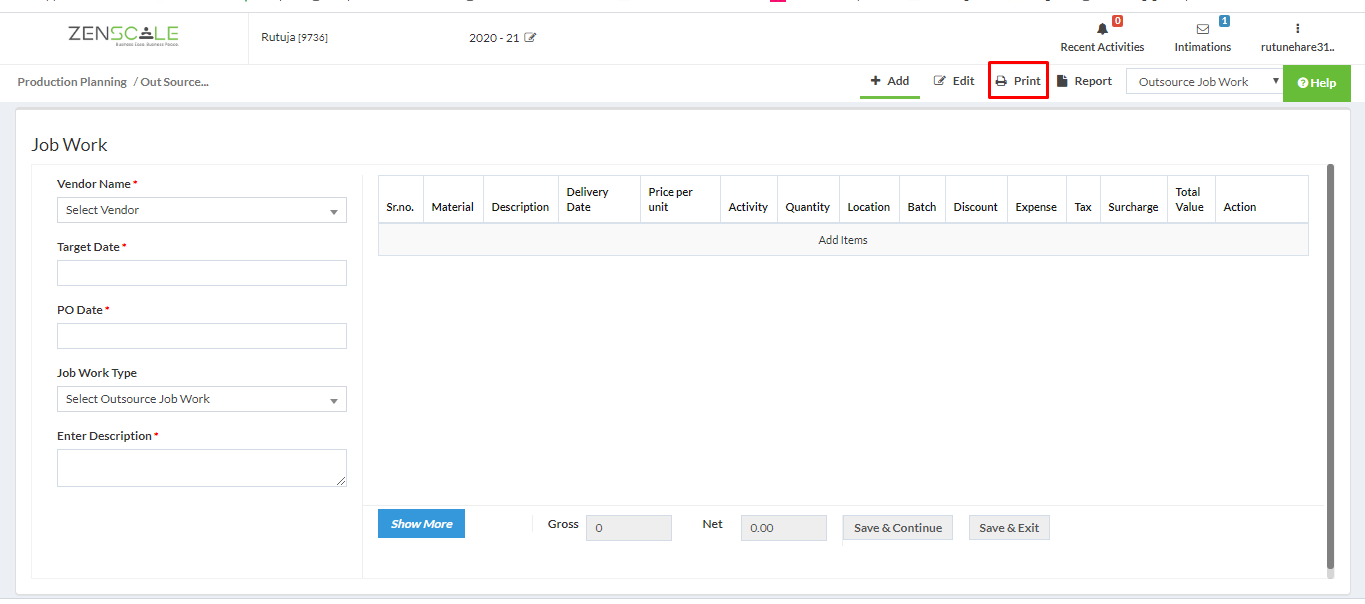 32. The page will open select the date, Job work and vendor.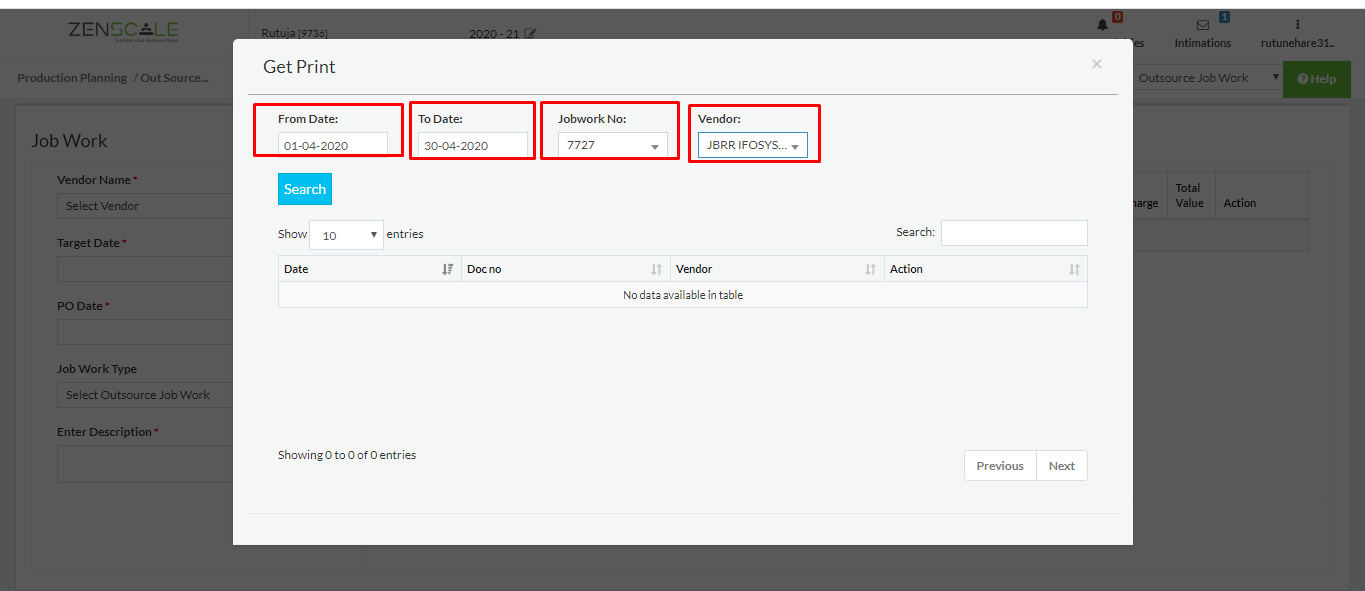 33. Then click on search.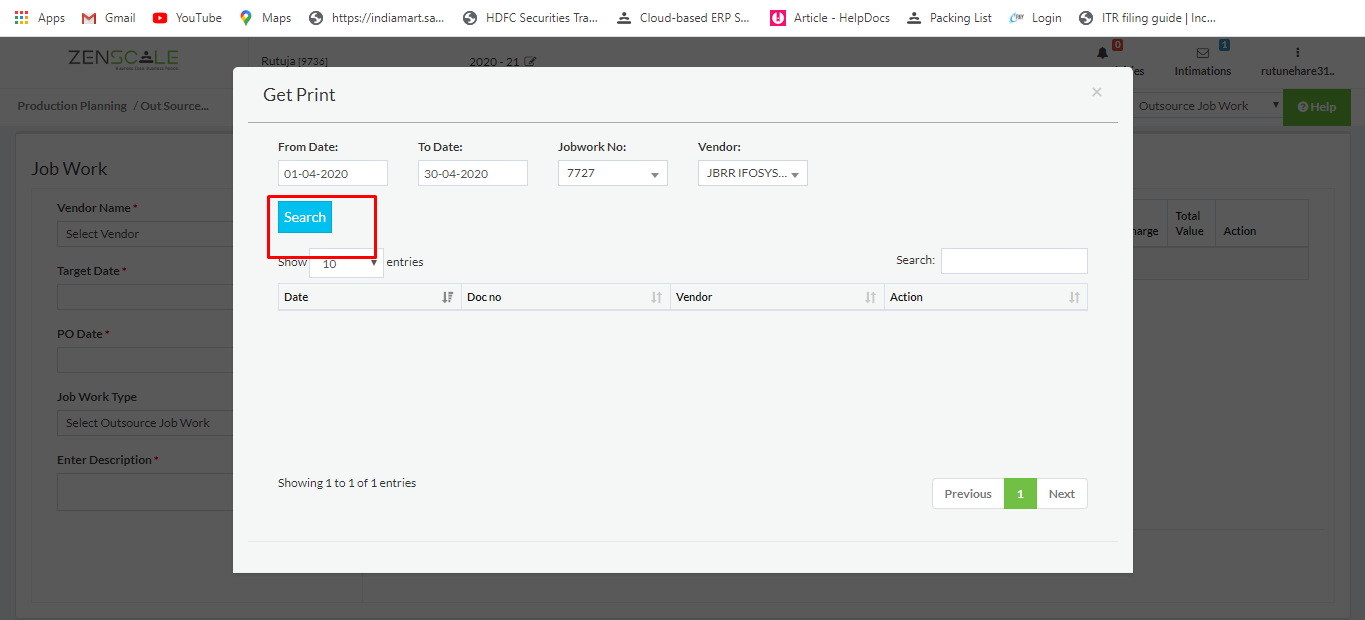 34. It will show that , then click on action column which is highlight .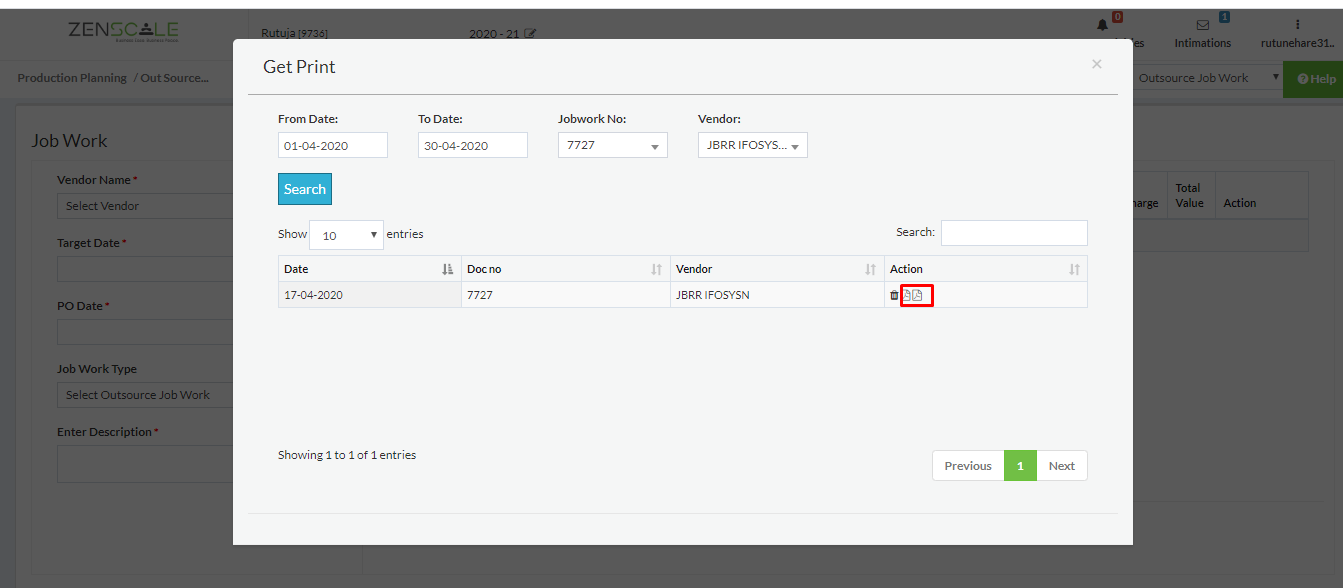 35. The print will show,