Updated by Implementation
What is Earned Leave (EL)?
This setting enables the management to set up a system that enables the Leave setting according to HR policies.This system can provide a proper structure of leave generation and leave balances.
Overview :-
Earned leave feature is a leave management setting that can provide the proper leave structure of leave creation to leave balances. The user can set the leave entitlements according to the HR policies. Some organizations using Earned leave as Encasement So Zenscale also provide this setting in Earned leave the setting. The reports of the leaves are transparent and clear. Zenscale provides proper leave ledger for leave calculation (Balances and Applied leaves).
Use Case :-
Assume a company name with Abhishek Industries Private Limited. In this company 1000+ employees working. Due to a large number of employees HR facing issues maintaining the leave balances of employees and also difficult to maintain the LWW calculation of employees. In this case, Zenscale provides the earned leave setting which can provide the proper calculation of wages with proper leave balances according to policies.
Steps to be performed :- Following below steps to activate the Earned leave setting:-
1. Leaves > Unsubscribe apps

2. Unsubscribe apps > Leave

3. Leave > Subscribe

4. Refresh the page
5. Leaves > Leave

6. Activate the leave setting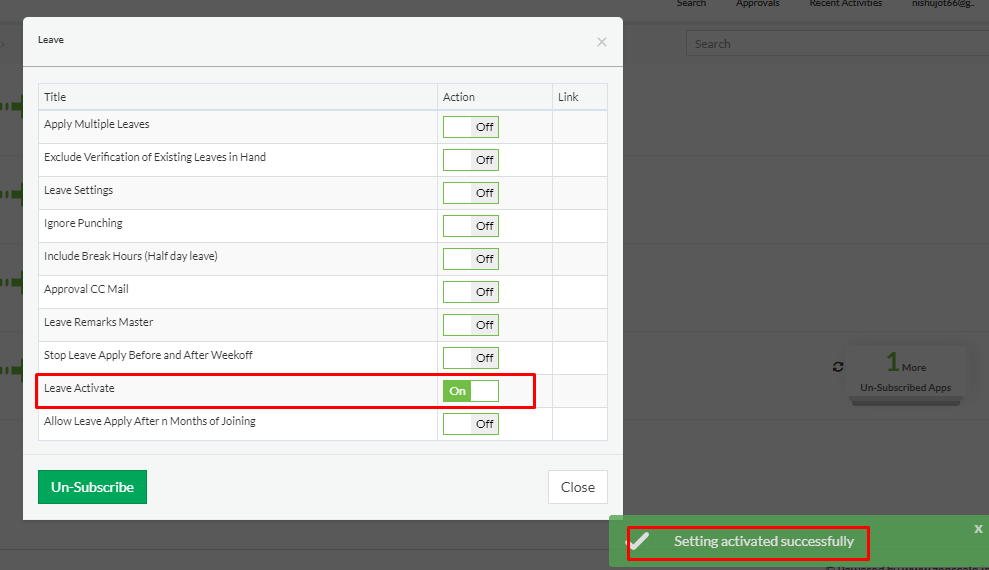 7. Click on Leave Setting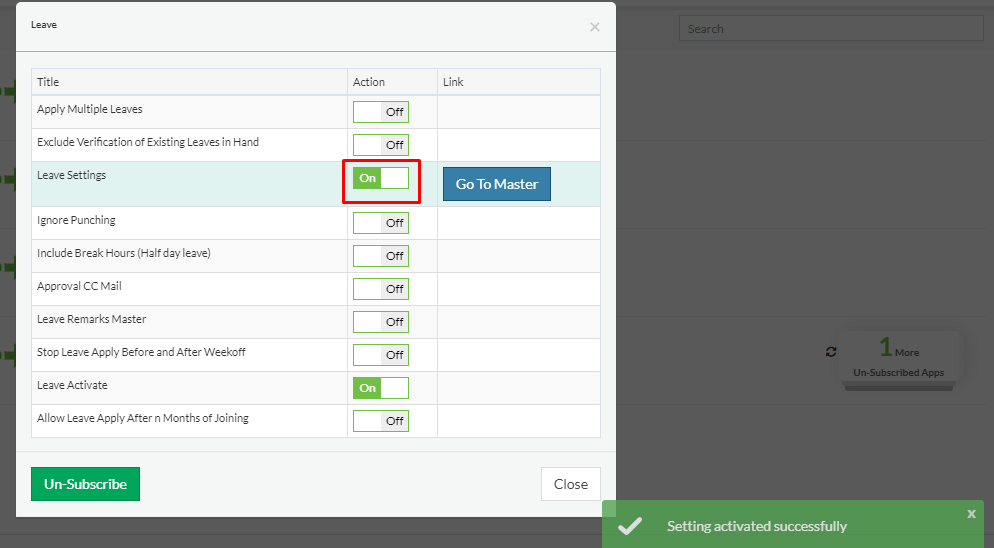 8. Click on Go to Master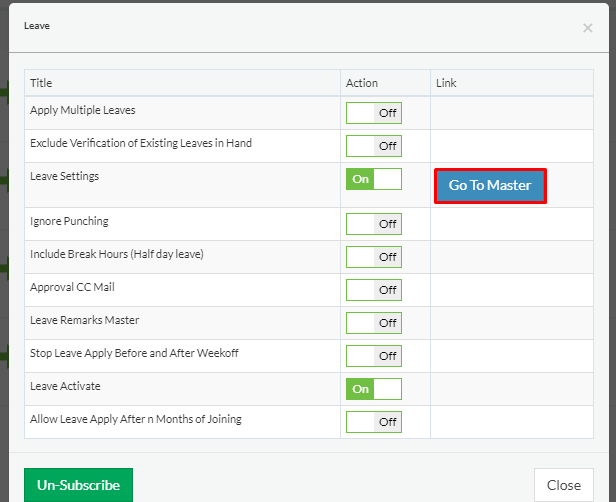 9. Select Leave type which user assign to employees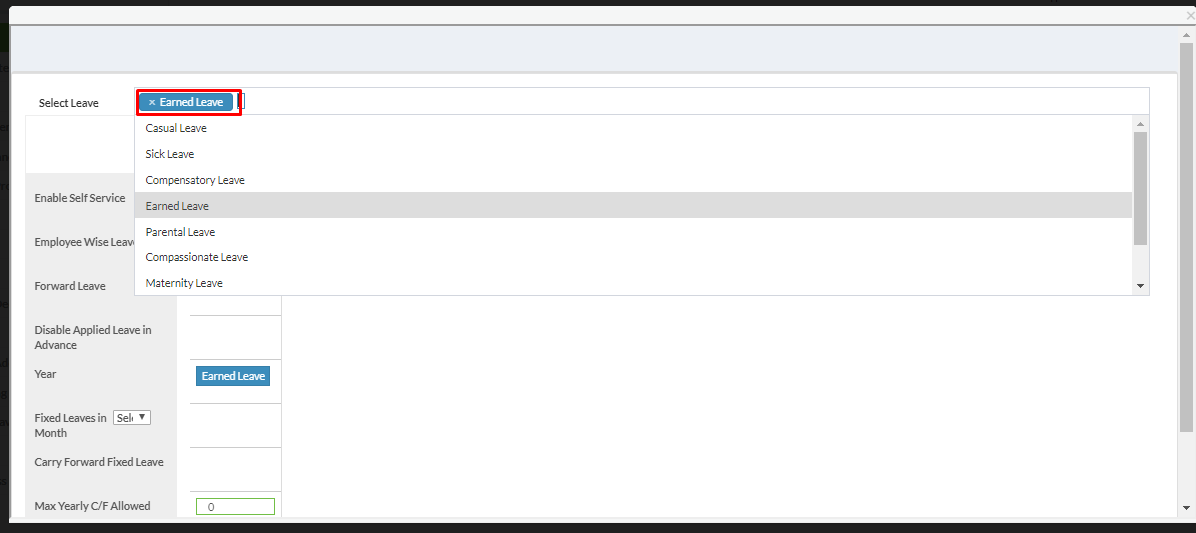 10.Activate the Self Service setting and employee wise setting (If Required)
11. Tick on forward leave which user want to forward in next year
12. Click on Earned Leave tab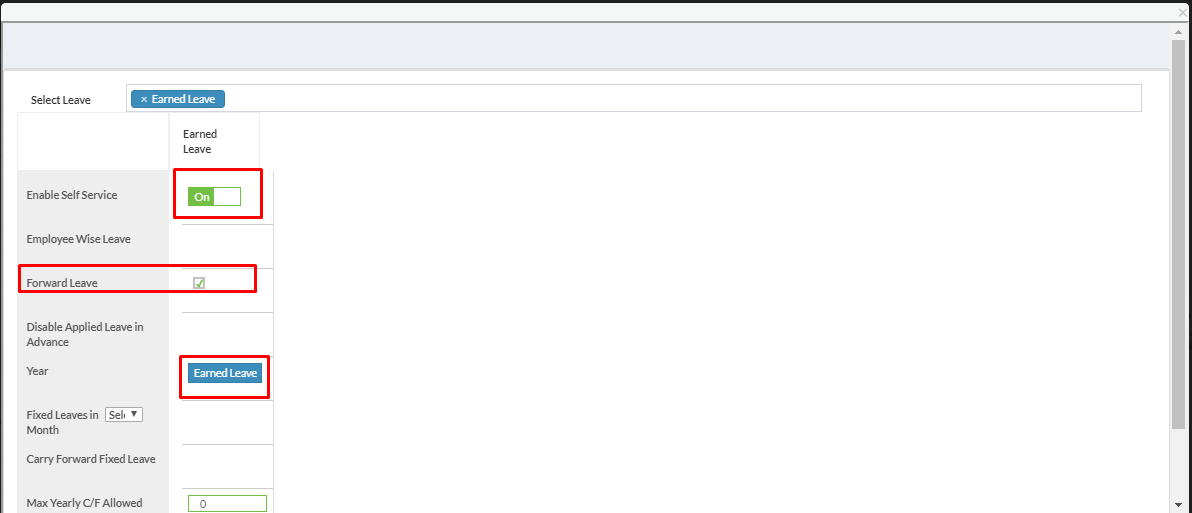 13. Enter the settings according to HR policies e.g
a) Click on Earned leave calculation head i.e Basic
b) Enter Earned Leave entitlement
c) Enter Each Entitlement after
d) Enter Base Days for Salary Calculation
e) Choose the year i.e Financial year or Calendar.

14. Click on Save & Continue.

15. User can view the leave record in leave summery.