Updated by Implementation
What is Asset Creation?
Asset Creation refers to creation of Asset Id in Zenscale. On the basis of Asset id User can track details of assets easily.
Overview
Asset id is created under Asset Class. It is used once per purchase. Here user defines depreciation and class on that basis.
Use Case
Suppose there is a firm "XYZ Ltd". This is a Manufacturing firm. And they purchase lots of machineries so they need to maintain it via system.
With this option, user can create different asset ids for all machineries.
Steps to be performed to create Asset.
1.Go to Fixed Asset
2.In Masters-> Click on Asset Master
2.1.Asset Master-> i)Enter Asset Name ii)Select Asset Class.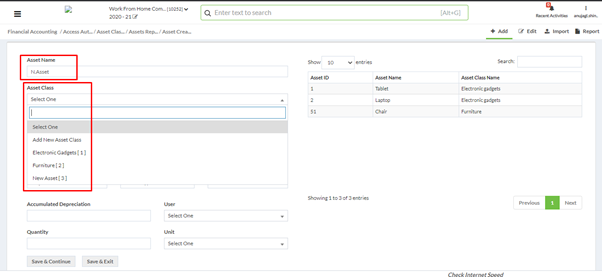 2.2.Select Depreciation. User can select here multiple depreciation too.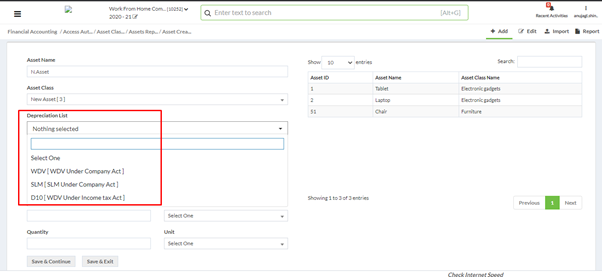 2.3-> i)Enter Put to Use Date ii)Enter Acquisition Value iii)Acquisition Date iv)Accumulated Depreciation (Accumulated depreciation will automatically deduct from acquisition value) v)Select User & Unit vi)Enter Quantity (It will not effect your stock report if are using Material Management too. Click on save & continue.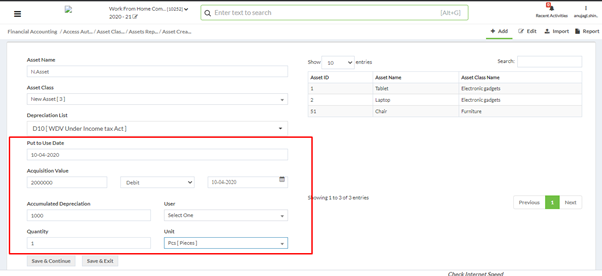 3.Edit: Click on edit and select asset id from dropdown. Make the required changes and save.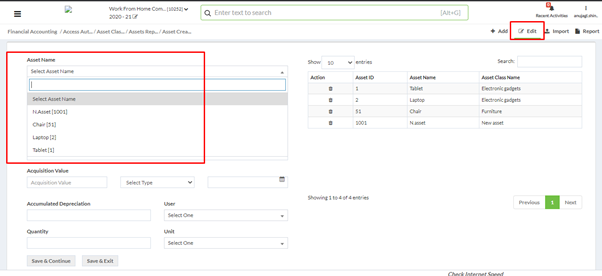 4. Import-> User can create bulk asset ids in single click via CSV option. Just download sample file from marked option in below screen shot. The pop up will open and user can tick the option required and click on download to get sample file.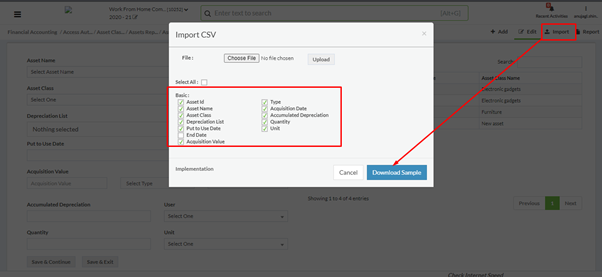 4.1. CSV-> i)The 2nd row is reserved for sample data so, user do not need to fill data in second row and also there is no need to remove that 2nd row as the 2nd row data will not be saved in software. ii)If user is creating new Asset Id then user will start feeding data from "Column B".  iii)Fill Asset Name iv) Enter Asset Class Code (User will get it from Asset Master) v)Enter Depreciation Code (User will get it from Asset Master) vi)Rest of data will be same as we feed in master.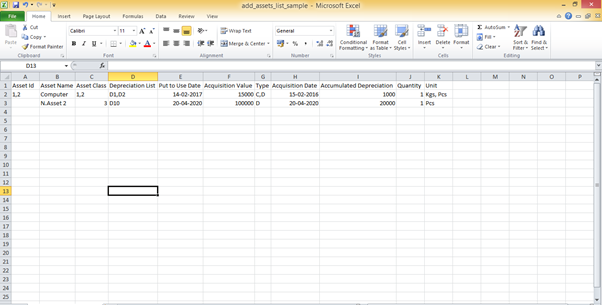 4.2-> Now come to Asset Id creation master and click on import option and the pop up will open. Upload csv file. The data will be saved.
User can edit bulk Asset id via csv. Just need to enter Asset id in column A. and enter rest of data in other columns.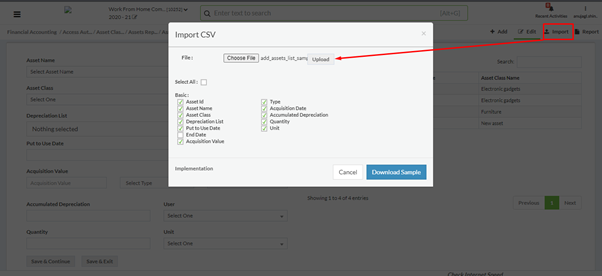 5.Report-> Click on Report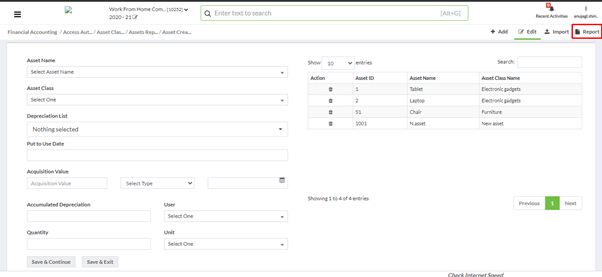 5.1.Here user can see all saved data. User can set layout of report as required. Report can be downloaded and printed.