Updated by Implementation
What is TCS?
TCS or Tax Collected at Source is a tax levied by the government of India. TCS is payable by the seller who collects the tax, in turn, from the buyers at the time of sale of goods.
Overview
TCS occurrence is based on what happened first i.e. invoicing or payment. If customer has paid money in advance then TCS will be deducted on that payment and TCS will not be charges on invoice issued against that payment.
Use Case
Suppose there is a firm "XYZ Ltd". They are a manufacturing firm. They sale the goods to customer and apply TCS. So, as per Sale tax department, it is mandatory to apply TCS on sales.
With this option user can apply TCS on transactions. And user will get report to file TCS return.
Steps to be performed for TCS
1.Go to Account Receivable in apps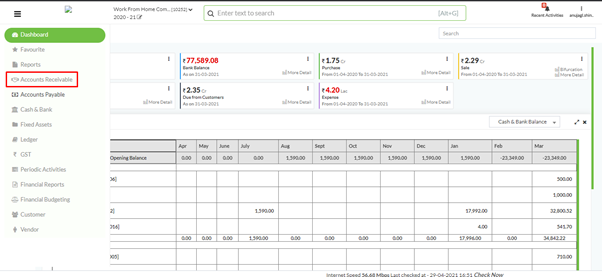 2.Go to Apps-> Activate TCS App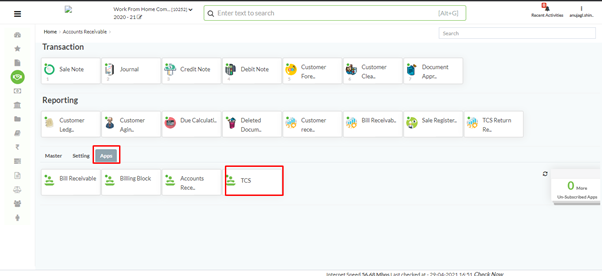 2.1.Activate TCS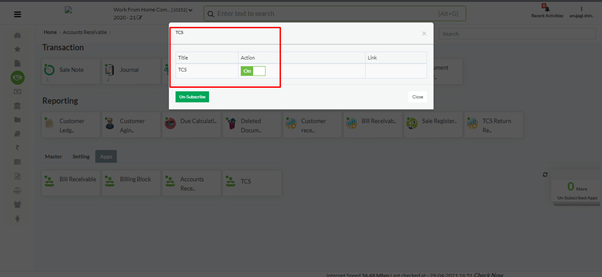 3.Go to Master and Click on TDS Master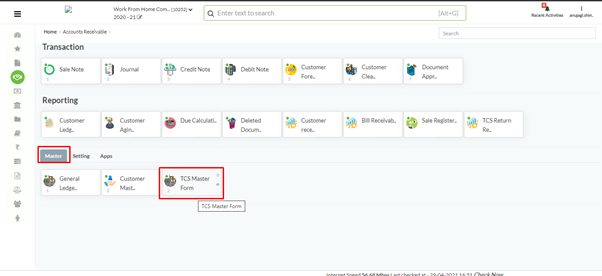 3.1.Enter TCS Code, TCS description. Select TCS type as required.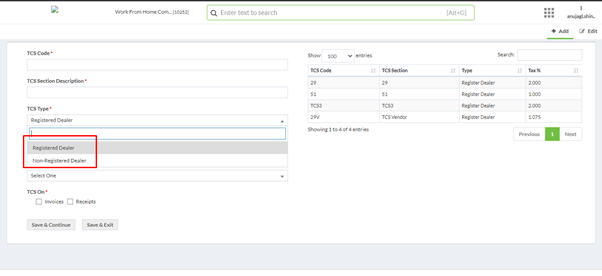 3.2-i)Enter tax percentage ii)Select Ledger iii)Tick Invoice and receipt as require. (Note: If user tick on invoice or receipt then system will ask on both time for deduction of TCS). Click on save & continue.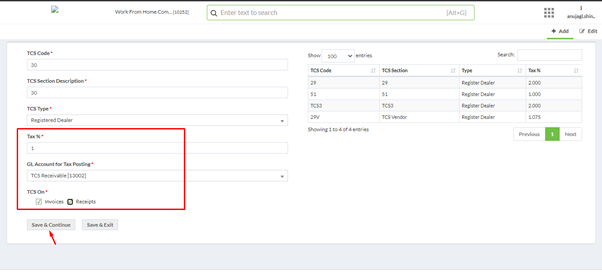 4.Click on Customer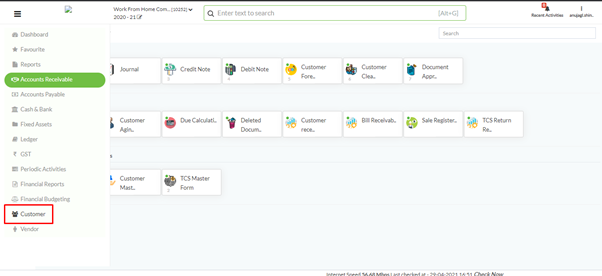 4.1.Go to Transaction and click on Customer Master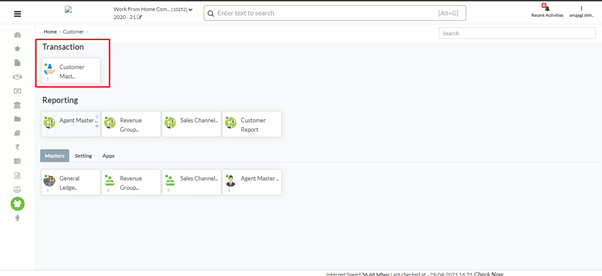 4.2-Customer-> Tax Tab-> i)User can select here TCS code ii)Click on save.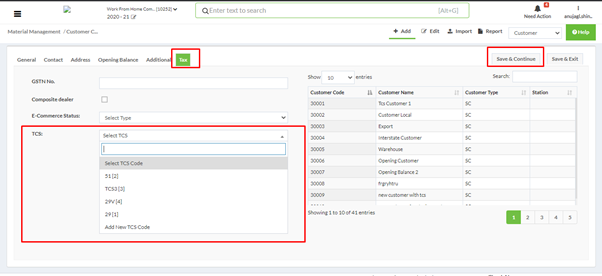 4.3.In case of vendor: In the same way user can assign TCS code.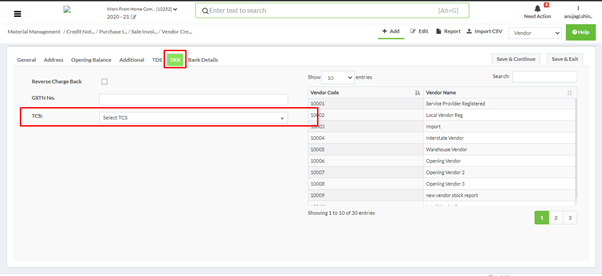 5.Sale Note->i)Select TCS Customer and user will see "Apply TCS" button at right bottom of screen. Enter base value there and it will show tcs value there. Click on submit. ii)If user does not want to apply TCS then user does not need to open TCS pop up.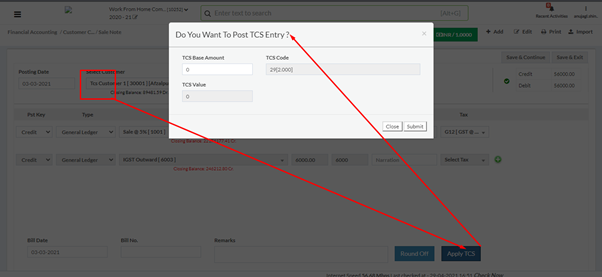 5.1.Click on save & continue.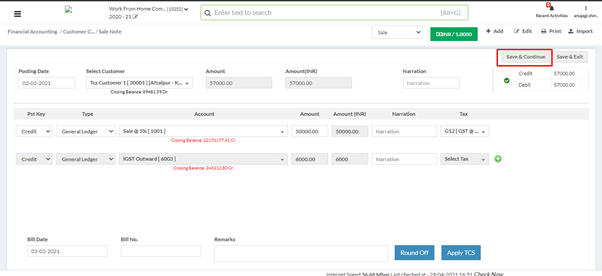 5.2.In simulation it will show TCS Entry. Click on save & continue.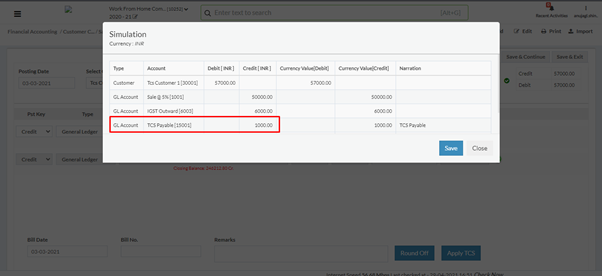 5.3.Bank Receipt-> Select customer and pop up of TCS will open. Enter here value and TCS will be calculated.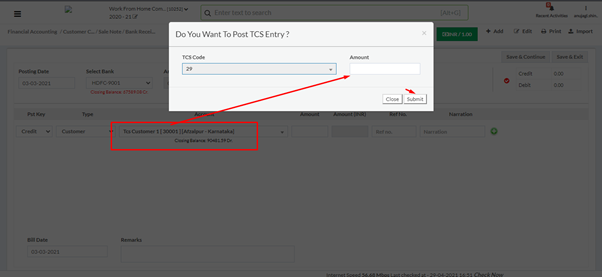 5.4. In Purchase note: User can record the TCS paid to vendor.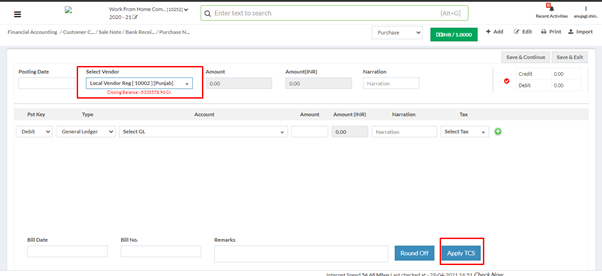 5.5. Credit note to Vendor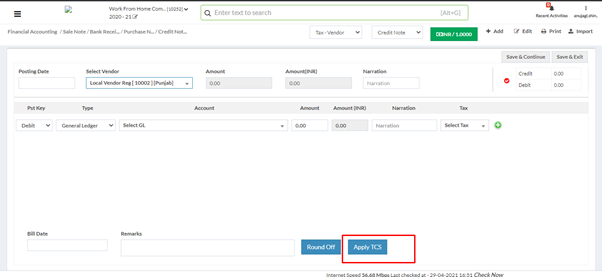 5.4.Purchase Invoice in Material Management-> after selection of vendor it will show TCS option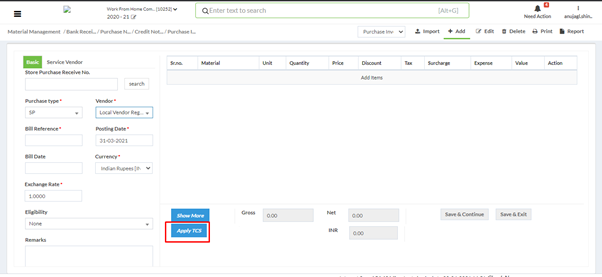 5.5.Sale Invoice in Material Management-> It will show TCS button on selection of tcs customer.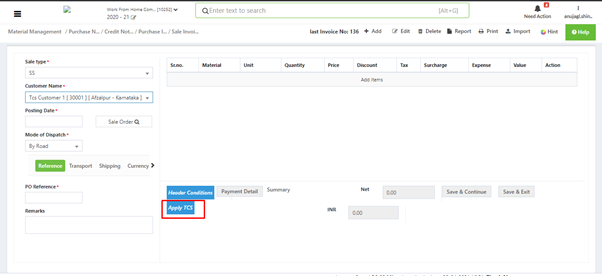 6.TCS Report->Click on TCS report in Account Receivable.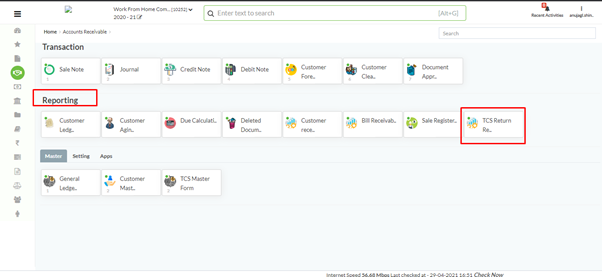 6.1.User can search data date wise. Here use it will show date wise report.