Updated by Implementation
What is Purchase Note?
A Purchase Note is posted in accounting software in reference to bill you receive from your Suppliers against which you need to make the payment. Purchase is the exact opposite of your Sales Invoice. User post it in system as a confirmation for goods receiving.
Overview
Purchase Note is a document stating that a buyer is buying the particular item from seller on a specified rate with authorized seal by seller. Only on basis of this document buyer can claim Input Tax Credit from government.
Use case
Suppose there is firm "XYZ Ltd". They are registered trader and Purchases goods from different vendor. They receive bills for goods that they receive from vendors. They will post that document in accounting software and then they will get the access to their payables.
With this feature, they can record the invoice into the system and can get the accurate report for their purchases.
Steps to be performed to Create Purchase Note
1.Go to Account Payable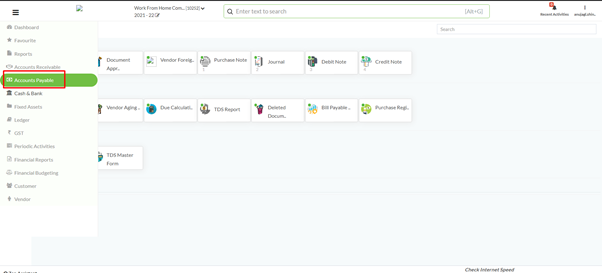 2.Go to Transaction-> Click on Purchase Note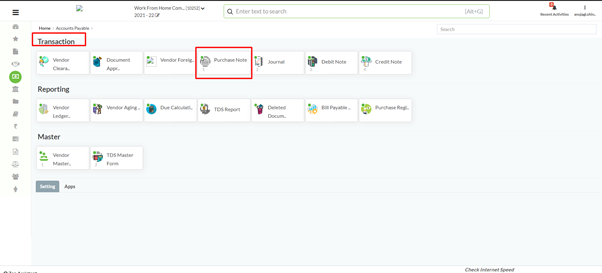 3.Purchase Note-> i)Enter Posting Date ii)Select Vendor iii)After selection of Vendor, the exchange rate will set automatically iv)If user want to change currency or exchange rate, user can click on marked green button to open currency pop up. User can make changes and click on "Apply for current document".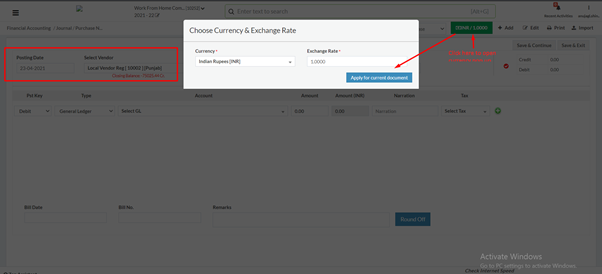 3.1- i)Select Purchase account or any other ledger as required ii) Enter Amount and press button "Tab" on your keyboard. Software will show a loader and will show tax as per your vendor selection and hsn/sac assigned to Ledger. iii)If user want to add another ledger account then click on + button given after Narration iv) Enter narration if required. V)Enter remarks if required.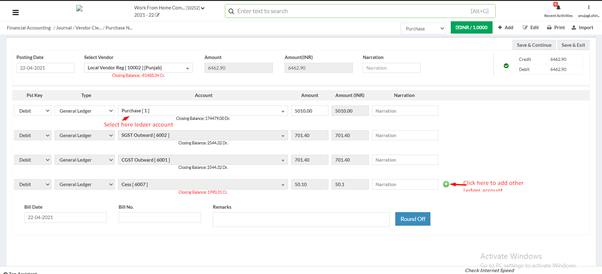 3.2- User can apply Round off if required. Just click on "Round off", a pop up will open and user can enter round off amount and click on apply.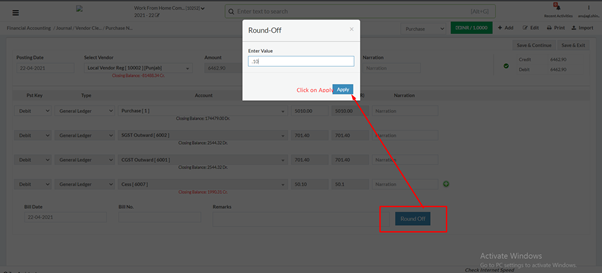 3.3. Click on save and simulation will open. After that click on save button given on simulation.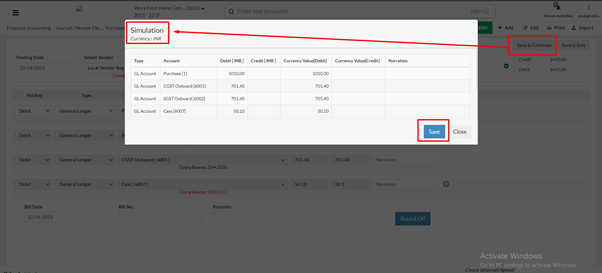 3.4.Document saved and if user want to take print then click on "Yes Print it".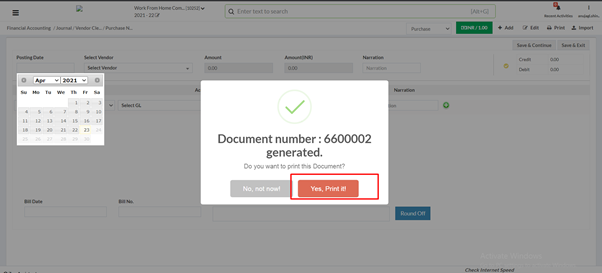 3.5.Print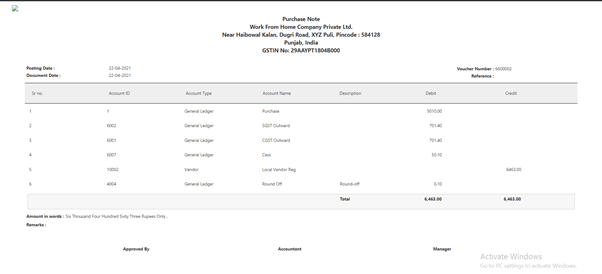 4.Go to Ledger->Apps->Voucher Settings->Activate "Round Off Account".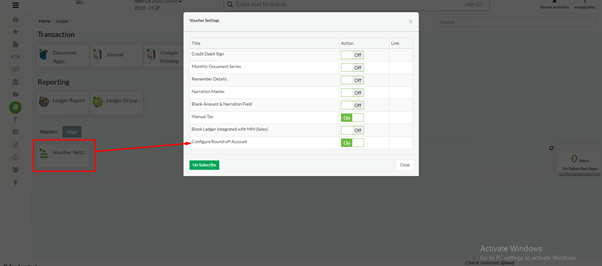 4.1.Go to Periodic Activity: Settings: Click on Round off Account. Select here Ledger account. Click on save & continue. Now at the time of posting it will automatically post entry in this ledger account.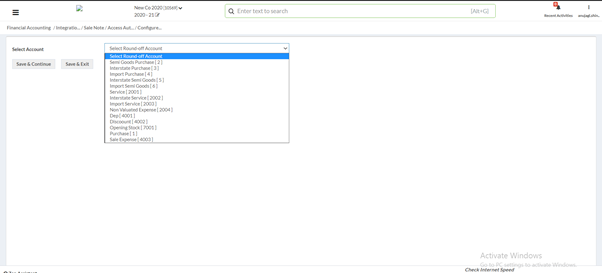 5.Edit-> Click on edit and select document number. And after that user can make changes as required.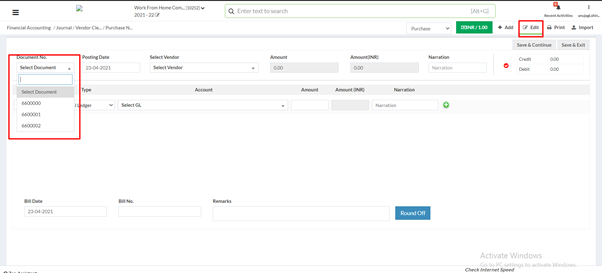 6.There is an another option to select tax manually. To apply this to Go to Ledger-> Apps-> Click on Voucher Settings-> Activate Manual Tax.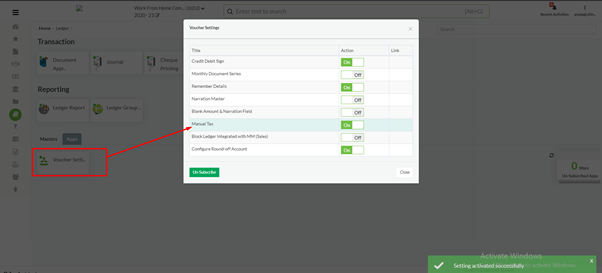 6.1.Purchase Note-> Now in below screen shot, user can see "Select Tax Option". Now user will select tax.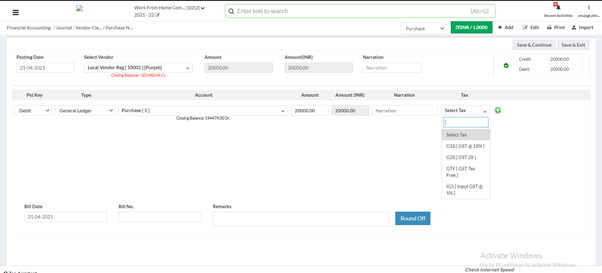 6.2. After selection of tax it will apply it with ledger account and value.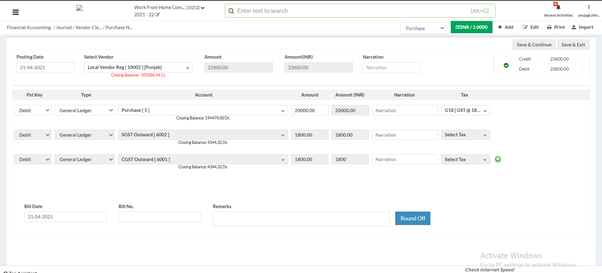 7.User can save bulk entries with the help of CSV. Go in Purchase Note and click on Import option (marked in below screen shot). The pop up will open and user can download the sample file.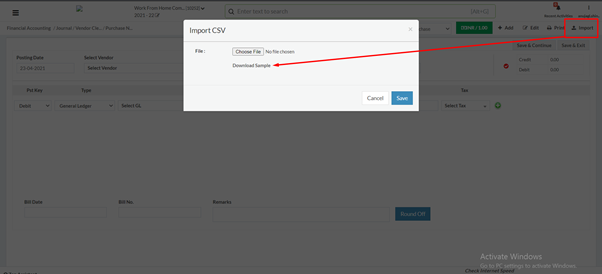 7.1. IN CSV: User will start entering data from 3rd row because 2nd row is reserved for sample data and that will not be saved in system as transaction.
i) Enter serial number 1 for 1 entry. Like there are 3 ledgers will be used for 1 entry then serial number will be same for all ledgers. Serial number will become 2 only with start of second entry. ii) Under document type user can enter document code of all document. FP is the code of Purchase Note iii) Enter Posting date & document date iv) Enter currency code v)In IS GST: enter X in Vendor/Customer row vi) Enter Posting Key vii) Enter Type of Account i.e. Customer, Vendor or GL in form of V/C/GL viii) Account id ix) Enter Amount.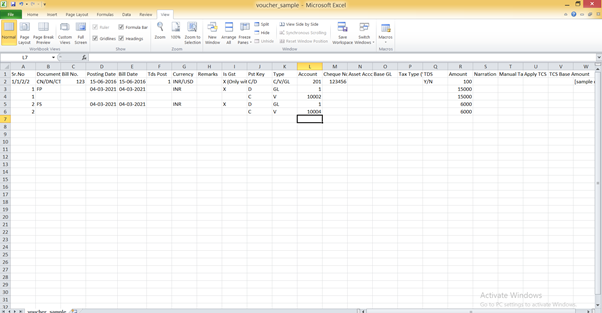 7.2.Upload CSV and save the document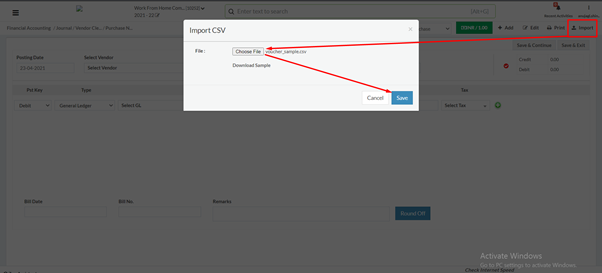 8.The entries will appear in Vendor Ledger, Ledger Report, Purchase Register & GSTR3b. Please check related helpdocs for detailed Information.